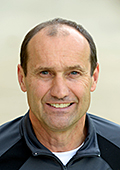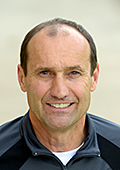 As both a basketball player and a coach, Steve Moore has been championship-caliber.
After playing in high school at Monroeville, Moore attended Wittenberg University. He played on three straight Ohio Athletic Conference championship squads with the Tigers, serving as team captain and starting point guard in 1974.
Moore's coaching career began as an assistant at Springfield Catholic High School in 1974-75. From there he moved on to Ohio University, where he was a graduate assistant in the 1975-76 season, and then back to Wittenberg, where he was an assistant from 1976-81.
Moore's first head coaching job was at Muhlenberg College in Allentown, Pa., where his teams captured two Middle Atlantic Conference titles. That caught the attention of The College of Wooster, which hired him in 1987 and where he recently completed his 15th season.
At Wooster, Moore has won 329 games and lost just 89, the highest winning percentage in school history. His career winning percentage of .729 (416-154) ranks him 12th among active Division III coaches.
A five-time North Coast Athletic Conference Coach of the Year, Moore has directed the Fighting Scots to eight regular season and seven NCAC tournament titles. His teams have also made 10 appearances in the NCAA tournament, including two trips to the Sweet 16. Also a two-time Great Lakes Region Coach of the Year, Moore has coached 24 Scots that have been All-NCAC selections, and three All-Americans. On February 12, 2001, Wooster was ranked No. 1 in the country for the first time ever.