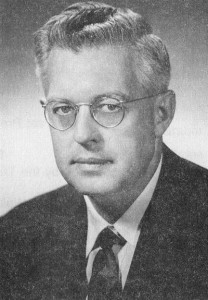 Harry Strobel began his athletic career in Massillon, playing football, basketball, and baseball at Washington High with the likes of Paul Brown. He also won eight varsity letters at Miami University from 1928 through 1932, three each in football and baseball, and two in basketball. While there, he pitched a no-hit shutout against Dennison University.
Coaching was to become Strobel's vocation and he began by initiating a football program at Brilliant, Ohio, as well as coaching the baseball team and both the boys' and girls' basketball teams. In 1935, he moved to North Canton as head basketball and assistant football coach, then to Louisville as head football coach. In 1937, Orrville was fortunate to obtain his services for both football and basketball. His 1939 football team was undefeated (8-0-1) and the 1940 team was undefeated and untied (9-0). He coached in Orrville from 1937 through the spring of 1942, a total of five years.
Between 1942 and 1946, Strobel coached football and basketball at Bellevue, winning the Class A (big school) State Basketball championship in 1945. This team beat Massillon in the semi-final and Middletown in the championship game. Bellevue ended their season at 25-0, Middletown was 24-1, and their only loss was to the "Whiz Kids" of Strobel.
1946 through 1949 saw Strobel in Barberton as head football coach. (One of his players was Bo Schembechler.) The 1949 team was declared the Ohio State champions, after defeating Massillon. In 1947, he was Ohio Coach of the Year. He also was the coach of the winning North squad for the 1948 all-Star game in Canton. Strobel is the only Ohio coach to have coached a state championship in both football and basketball at different schools.
In 1949, Strobel gave up high school coaching to become an assistant varsity football coach at Ohio State University, a position he held for 20 years (1949-1968). His primary responsibility was coaching offensive linemen, guards and centers in particular. He applied himself to this job as had all others before, turning out six All-Americans at their positions. Other coaching highlights included trips to the Rose Bowl with the 1950, 1955, and 1958 Buckeye teams. Strobel became Assistant Intramural Director at O.S.U. in 1968 and held this job until his death in 1971.
Harry Strobel was inducted into the Barberton Sports Hall of Fame in 1980, for his contribution to that Summit County School program.