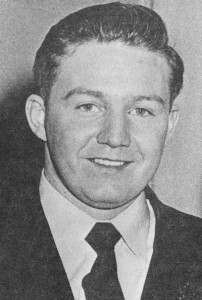 Most people in Wayne County are probably not aware of "Junie" Gerber's real, given name but many are aware of the many accomplishments that he performed on a softball diamond. Particularly if they played against him between 1947 and 1976, some 30 years. Many will remember him pitching a double-header, one left-handed (his prime side) and one right. Or they may remember his wicked bat at the plate. Or some will even remember when he put on the blue suit and stood behind the catcher to call balls and strikes after he had played for those 30 years.
Gerber started playing on the Dalton Merchants team from 1947-1949. From there he went to Korea and played on service teams 1950-1953. Other teams included Massillon Amhurst 1954, Superior Meats 1955, Kidron Merchants 1956-1959, Shearer's Lumber 1960-1961, Tiny's Tigers 1962, Dee J's 1963-1966, Orr Park 1967 and 1970, Sterling Merchants 1968-1969, and Wooster Merchants 1971-1976.
In 1956 the Orr Park Labor Day tournament was being held for the 27th time and a young man by the name of Gerber pitched and won five games that weekend to win the championship for his team. He was selected the Tournament Most Valuable Player for his efforts. Winning was not new to Junie. Neither was being given awards for his athletic efforts. In 1969 he was selected the North Central Ohio Softball League Champion player. In 1976 he was the Ohio State Class "A" Most Valuable Pitcher, and in 1986, he was honored posthumously as an All Star Pitcher in the history of the KIdron Merchants Softball team.
As good as Gerber was as a pitcher, he was equally skilled as a batter. He carried a lifetime batting average of about .300 against some of the best pitching talents in the state of Ohio at that time. The Wayne County Softball League was an above average league when Gerber played in it and he was one of the premier players of the day.
When he felt his playing days were winding down, he became an umpire to be able to stay close to the game. For several years he was the Umpire in Chief for the Orr Park Memorial Day and Labor Day tournaments, lining up other umpires for the games and settling any disputes which may arise (which were unusually few with him in charge). When Orrville started a Fastpitch Softball League several years ago, he volunteered his time to help teach some of the players.
Gerber's enthusiasm and love of the game, his competitiveness and excellence of performance have set an example for many young people to follow. He was a winner by every definition of the word. He was also a champion. Andrew "Junie" Gerber, Jr. passed away in 1983.