By AARON DORKSEN
Daily Record correspondent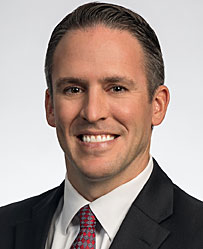 This summer many sports fans are calling the Golden State Warriors one of the all-time greatest NBA dynasties.
During the 1990s, the Orrville Red Riders had one of the area's greatest runs in basketball AND football and Tom Reusser was one of the school's top stars in both sports.
In basketball, Reusser was a three-year starter at point guard and helped Orrville to back-to-back state championships in 1994-95 and 1995-96. He played on teams that featured WCSHOF members Marcell Denson (class of 2016) and Renauld Ray (2010) and were coached by the late Steve Smith (1992 inductee).
The 1995-96 Riders hoops team finished the season with a 26-1 record after defeating Kettering Archbishop Alter 65-49 in the Div. II championship game and wound up ranked No. 22 in the final USA Today national poll. A four-year letterwinner, Reusser was a co-captain as a senior and earned the team's Mr. Defense Award.
Orrville defeated Wheelersburg 79-50 to win the Div. III state title and finish with a 24-3 record in 1994-95.
Reusser made his biggest mark in football, where he was a three-year starter for the Riders and went on to also start for three years at Dartmouth College.
As a running back/defensive back for Orrville, Reusser did it all for teams that finished as the Div. IV state runner-up in 1994 (lost 34-24 to Germantown Valley View) and reached the Final Four in 1995 under coach Bill McMillan (WCSHOF 2004). He teamed up with standouts such as Denson, Ray, Dan Stultz (WCSHOF 2010) and Jared Zwick on the gridiron.
As a junior during the regular season in 1994, Reusser had eight interceptions, 89 tackles, rushed for 817 yards, scored 16 touchdowns, threw two TD passes, helped the team as a kickoff and punt returner and was even the holder for PATs and field goals. Reusser's statistics for the Riders' entire season (12-2 final record) counting the playoffs weren't available, but he did finish with 11 interceptions. That's still a single-season school record.
During a 1995 senior season in which Reusser garnered special mention All-Ohio honors and a spot in the North-South game, his regular-season numbers included seven interceptions, 55 tackles, 12 TDs scored and eight TD passes. He was also named the Roy Bates Foundation Player of the Year.
"He works very hard," McMillan said of Reusser, in a 1995 Daily Record article. "Not too many people have outworked him – mentally, physically, work ethic, everything else. He's what you look for in an athlete. He leads by example on and off the field, in season and off season."
At Dartmouth, the 5-foot-11, 180-pounder started for three seasons at cornerback and was a second-team All-Ivy League honoree as a senior in 1999. He recorded 230 career tackles and 11 interceptions (third highest in school history). He also ranked in the top 10 at the time of graduation for career kickoff and punt return yardage (1,093 yards).
His favorite sports memory is celebrating a hard-fought Dartmouth win over Princeton and walking off the field with his family after the final game of his senior season. "It was the final page of a great chapter in my life," Reusser said.
Reusser and his wife, Tiffany, are the parents of Jude (8), Ruby (7) and Lila (6) and reside in Dublin, Ohio. He is a wealth advisor, senior portfolio manager and senior vice president at UBS Financial Services, Inc.