By MIKE PLANT
Daily Record Sports Editor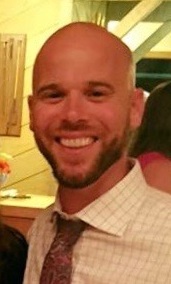 On the football field, it didn't matter whether Seth Mastrine was playing in high school or college: When the ball was in the air and in his area, he was likely to come down with it.
Mastrine, a graduate of Waynedale High School and then The College of Wooster, left both schools owning the all-time record for interceptions.
While a Golden Bear, he collected a total of nine letters — three apiece in football, basketball and baseball.
On the court, Mastrine was also known for his defense, being named the team's Defensive MVP as a junior and again as a senior. He was an honorable mention All-Wayne County Athletic League and All-District pick as a junior, then second-team All-WCAL as a senior, when he served as team captain.
In baseball, the 1997 Waynedale grad saved his best for his senior season, one in which he had the team's highest batting average en route to first-team All-WCAL and Honorable Mention All-Ohio honors, while also being selected as an alternate for the Mizuno All-Ohio game.
It was on the football field that he had his biggest impact as not just the best defensive back in the area, but one of the best in Ohio.
It started with his sophomore season, when he was picked as a second-team All-WCAL performer. The next year, when Waynedale won the league title and advanced in the playoffs to the state semifinals, Mastrine was first-team All-WCAL and All-Ohio.
As a senior, he was a team captain and voted as Team MVP, and also repeated both of his first-team honors from the year before. He still holds school records for interceptions in a game (three), season (14) and career (22), with his single-season of 14 thefts tied for fourth in Ohio high school history and his career total ranking tied for eighth all-time in the state.
Staying in Wayne County for college, Mastrine picked up right where he left off on the gridiron, being recognized as a freshman for his punt return skills when earned the first of his three second-team All-North Coast Athletic Conference honors as a return specialist.
After sitting out his sophomore season with a knee injury, he returned in a big way his final two seasons with the Fighting Scots. As a junior in 1999, he set Wooster records for interceptions in a single game, with four against Allegheny, and in a single season, with nine.
Those performances helped him set the school's record for career interceptions with 18.
Following both seasons, the individual honors rolled in. In 1999, he was a first-team All-NCAC and All-Region defensive back and was named an honorable mention All-American. He closed his career by repeating on the first team All-NCAC and All-Region squads, and with a third-team selection on the NCAA Div. III Hewlett-Packard All-American team.
In addition to his interception records, Mastrine also graduated from Wooster ranked second all-time in punt return average for a season (12.5 yards), second in career punt return yardage (981 yards) and sixth in career punt return average (9.3 yards). He was named to the NCAC's All-Decade team (1993-2004).
Upon graduation, Mastrine served as an assistant coach for the Scots for four seasons, and then at several high schools, including at Grove City High School since 2013.
He lives in Grove City and works for The Learning Spectrum, a Columbus-based non-profit organization serving children on the Austism spectrum of all levels, including those who are non-verbal. He is also employed by Franklin County Residential Services, which offers residential and family support programs.