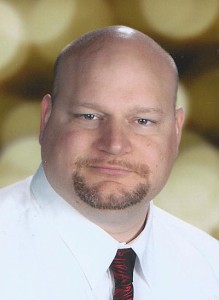 Like most athletes at Triway High School, Scott Burnett tried basketball, playing one season at THS. With his considerable size and strength, he also played two seasons of football for the Titans.
What made Burnett into a Wayne County Sports Hall of Famer, though, was his ability as a thrower while lettering four times with the Triway track and field team (1987-90) and then at Ashland University (1991-95).
As a sophomore, Burnett made his first trip to the state track meet, placing 12th in the shot put to just miss All-Ohio status. That was the last time he missed out, however, as he made it back the next season and made his way to the top of the podium, winning the state championship. Burnett followed the same path as a senior, making his way to Columbus for the third time and earning back-to-back titles in the shot.
That topped off a prep career that included district and regional crowns, a school record toss of 58-feet, 1 1/4-inches, and he totaled the most field points for the Titans in both 1989 and 1990.
Moving on to Ashland University, Burnett would take part in eight NCAA National meets.
Burnett competed in the shot put, discus and hammer throws and becoming a five-time All-American in his specialty, the shot. In all eight meets, against the best competition in the nation, He never placed lower than 10th.
Two of those All-American designations were indoors, a fifth-place finish in both 1991 and 1994. Outdoors, he recorded places of fifth, sixth and seventh.
A Roy S. Bates Foundation Scholarship winner as a senior at Triway, Burnett is also on the Triway High School Wall of Fame, and is a member of the Ashland University Sports Hall of Fame.
Tickets for the induction banquet at the WHS Commons and ceremony inside the WHS auditorium are $35, and can be purchased by calling 330-927-5365. The meal will be catered by the Wooster Inn.
The WCSHOF will also hold its annual golf outing on July 1 at Riceland Golf Course. For more details, call Riceland at 330-683-1876 or WQKT/WKVK radio at 330-264-5122.
Mike Plant can be reached at 330-287-1649 or mplant@the-daily-record.com. Follow him on Twitter at @MPlantTDR.