By AARON DORKSEN
Sports Editor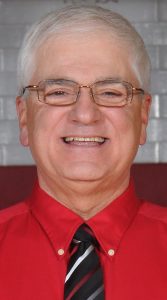 This is quite a year for Mark Alberts Sr.
Alberts recorded his 600th career basketball coaching win this winter.
In addition to being inducted into the Wayne County Sports Hall of Fame on June25, Alberts will be enshrined in the Wooster All-Sports Hall of Fame in the fall.
And, he watched his daughter, Marcie Alberts, enter the Ohio Basketball Hall of Fame in Columbus on May 21.
The patriarch of arguably Wayne County's first family of basketball, Mark Sr. joins Marcie and son, Mark Jr., in the WCSHOF.
Mark Sr. and his wife, Helen, also watched their youngest son, Mason, excel in basketball.
Alberts Sr., who's already in the Ohio Basketball Coaches Hall of Fame, led the Orrville girls basketball team to a 23-3 record and a Div. III district runner-up finish this season. He owns a 163-37 overall record in eight years at Orrville, which he directed to the State Final Four in 2013.
The 69-year-old shows no signs of slowing down as he's working with the Red Riders in preparation for the 2016-17 season.
Alberts' career in athletics really got started at Steubenville High School, where he graduated from in 1965. He played football, basketball and baseball for the Big Red.
The coaching trail for Alberts includes boys basketball jobs at Danville (1972-78, 77-43 record), Fredericktown (1978-80, 21-21) and Wooster (1980-2005, 345-201).
Alberts owns a 606-302 overall career record over 41 seasons for an outstanding winning percentage of .667. He's most proud of winning 508 of those games leading Wayne County teams – a number topped only by Chippewa coaching legend Denny Schrock.
Among the many highlights are 12 league titles, 22 sectional titles, three district titles and one regional championship. Additionally, his teams were district runners-up seven times.
Eleven league coach of the year honors include four in the Federal League while coaching the Wooster boys and one in the Ohio Cardinal Conference while leading the Orrville girls.
While at Wooster, Alberts' longest tournament run was in 2003 when they won the Div. I Copley District to reach the program's first regional since 1958. He retired after 35 years as a teacher, including 25 at Wooster, in 2004.
Alberts had strong Wooster teams fall to Canton McKinley two straight years in the rugged Canton District final Mark Jr. played in the late 1980s.
Alberts coached in the 1988 North-South game when Mark Jr. played.
Win or lose, Alberts Sr. has stood the test of time like few coaches in state history. He has coached young people on basketball and life nearly every year since 1972.