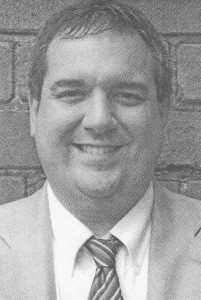 Although he set numerous individual records at Orrville High, where he lettered three times from 1989-92, what Kevin  Summers did as part of the 1991-92 basketball team was perhaps his biggest accomplishment—helping the Red Riders to the first team state championship in school history.
Summers was the Div. III Ohio Player of the Year as a senior, capping one of the most decorated careers at OHS. The forward was also a district Player of the Year, both a first-team and third-team All-Ohioan, made the all-state tournament team in 1992, and played in Ohio's North-South game.
When Summers graduated, he was Orrville's No. 2 all-time scorer, with four 40-plus point games playing for teams that went 71-5 in his three varsity seasons.
He is still the single-season scoring leader at OHS, with 673 points in the 1990-91 season, a year in which he also averaged 28 points, another school record.
His 48-point explosion against Manchester that season was another school best—until he broke it later with 51 points against Copley, a game in which he pulled down 22 rebounds for another OHS record.
Not merely a scorer, the 6-foot-2 Summers is No. 3 on Orrville's all-time rebounding list with 482 boards.
"Kevin had three attributes that made him one of OHS's best players ever," said Kent Smith, now the OHS athletic director who was an assistant to legendary Steve Smith during Summers' playing days.
"First was his ability to shoot the ball. His range was unlimited and he had an extremely quick release."
"In addition to this he was physically strong. His legs and upper body allowed him to post up inside and take the physical beatings team tried to use against him."
"And finally, he was mentally tough. Smitty challenged him physically and mentally and he was always able to respond."
"He played big against the best teams and wanted the ball in his hands if the game was on the line."
"It was a pleasure to be on the coaching staff during the Kevin Summers Era."
Summers, who attended Baldwin-Wallace College, is still active in basketball by serving as league director of the Upward Bound program for youths at Wooster's Grace Brethren Church. He and wife Monica have three children, sons Trevor and Benjamin and daughter Madison, and reside in Orrville.