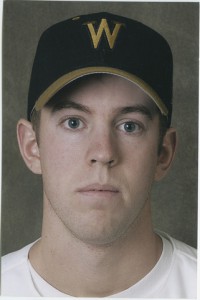 Playing at a small high school and college, Jake Frank had one of the biggest impacts imaginable.
Based just on Frank's record-setting performances as an All-Ohio baseball and basketball player at Div. III Northwestern High, he would have made a strong case for induction into the WCSHOF after his graduation in 2001.
However, Frank went on to rank as one of the greatest baseball players in the storied history of The College of Wooster and even all of Div. III to cement his spot as a first-ballot honoree into the WCSHOF.
Frank showed up at The COW, won the job as the starting third baseman as a freshman in 2002 and never stopped hitting, while also continuing to improve defensively under coach Tim Pettorini (2006 WCSHOF inductee).
When the 6-foot-2, 180-pounder completed his playing career for the Fighting Scots in 2005, he ranked in the top five in school history in 16 statistical categories. Frank is still the Scots' all-time leader in RBIs (224) and triples (13); second in hits (265), runs (218), walks (114) and total bases (455); third in batting average (.413) and games played (182); and fourth in doubles (59). His 35 home runs tie him for ninth on the leaderboard. One of Frank's most memorable hits was a home run during a 9-7 win at Ohio State as a freshman when he teamed up with brother Josh Frank, a senior pitcher for the Scots.
Frank ranks 11th in Div. III history in runs, 13th in RBIs and 20th in hits and was named to the D3baseball.com All-Decade First-Team for the 2000s.
The North Coast Athletic Conference honored Frank as Player of the Year after his sophomore year, Newcomer of the Year after his freshman year and he was a first-team honoree all four years. Frank was a three-time Div. III All-American, earning first-team honors twice.
More importantly to Frank, Wooster won the NCAC title three times during his career and placed third in the Div. III World Series in 2005. Frank batted .401 during that memorable senior year, ripping 10 home runs and 58 RBI.
While at Northwestern, Frank wound up re-writing parts of the Ohio High School Athletic Association's unofficial record book in two sports.
The Husky great still ranks third for career free throw percentage (.878) and 14th for season free throw percentage (.912) in OHSAA history. Frank scored 1,265 points playing basketball for coach Mark Alberts Jr., was named first-team All-Wayne County Athletic League as a junior and senior and earned honorable mention and then special mention All-Ohio honors.
Frank played in the Ohio High School Basketball Coaches Association North-South All-Star Game and also was named MVP of the Berkey Classic that showcases Wayne County's top seniors. He averaged 23.7 points a game and 10.9 rebounds as a senior. He was named on The Daily Record's All-2000s first team, as well as the 1994-2004 WCAL All-Decade team in conjunction with the 50th anniversary of the league.
He made an even bigger impact in baseball, still ranking second in state history in career hits (191) and fifth in career batting average (.550). Coach Scott St. Clair called Frank the best pure hitter he's ever seen and the slugger proved that by hitting safely in 96 of 106 career high school games.
Frank led the Wayne, Holmes and Ashland County area in batting average in 1999 (.568), 2000 (.567) and 2001 (.588) and was second in 1998 (.490). He was a two-time WCAL MVP, played for two league title teams and was a Mizuno All-Ohio honoree.
Tickets for the induction banquet at the WHS Commons and ceremony inside the WHS auditorium are $35, and can be purchased by calling 330-927-5365. The meal will be catered by the Wooster Inn.
Aaron Dorksen can be reached at 330-287-1621 or adorksen@the-daily-record.com. Follow him on Twitter at @adorksenTDR.