By AARON DORKSEN
Sports Editor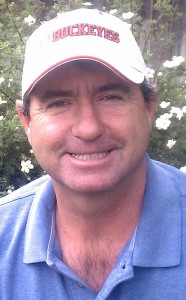 One can only imagine how many more points Fitz Hurd would have scored if the 3-point line would have been used back when he was playing high school basketball for Norwayne from 1977-78 to 1979-80.
Even without getting rewarded with an extra point for his long-distance marksmanship, the 5-foot-11 guard was the most prolific single-season scorer in Wayne County Athletic League history.
The 38.9 points a game in WCAL play that Hurd scored as a senior in 1979-80 are an all-time league record, while his overall 35.2 scoring average is believed to be the area record. He scored 810 points in that single season.
Think about that, Hurd didn't just have a couple of 38-point games. He averaged that for an entire season in the WCAL while playing under coach Terry O'Hare, who he'll join as a member of the Wayne County Sports Hall of Fame.
Hurd's single-game high during that record-setting senior campaign was a 61-point effort against Waynedale, the second-highest total behind Northwestern's Don Hershey (67 in 1955) in area history. O'Hare later said he wasn't aware of Hershey's point total, or else he would have left Hurd in the game to break the mark.
After the record-setting season, Hurd was named UPI second-team All-Ohio. His 1.313 career points are still a Norwayne record.
As a junior, Hurd led the WCAL with 20.9 points a game and he played on a regional team as a sophomore. The Bobcats won WCAL titles his senior and sophomore years.
Although known for his long-range jumpers, Hurd could also take the ball inside to score when needed.
Hurd played briefly in college at Allegheny, before transferring to Kent State.
After graduating as a Golden Flash with a degree in geography in 1985, Hurd headed  West to Colorado to visit his older brother, Bill, and fell in love with the area. He has made his home in Carbondale, Colorado, near Aspen, ever since and more family members have moved out there as well.
Today, Hurd is the owner-operator of Mountain Blue Pool and Spa and is married to wife, Jill. The couple enjoys their dogs, as well as skiing, golfing, hiking, camping, mountain biking and especially, the weather.