Hershey known for more than just one game
NOTE: This is the first in a series of 10 profiles of the 2018 Wayne County Sports Hall of Fame selections, who will be inducted during a ceremony at Grace Church in Wooster on June 23.
By AARON DORKSEN
Daily Record correspondent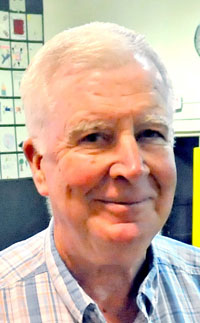 Don Hershey holds one of Wayne County's most well-known and oldest sports records, scoring 67 points for Northwestern High School in a 144-37 rout at Fredericksburg on Jan. 7, 1955.
However, Hershey was far from a one-game wonder. He finished his senior season averaging 28.8 points a game, which was third best in the state that year. He was selected honorable mention All-Ohio for coach Dan Baker (WCSHOF class of 2004) after a campaign that also saw him compile a 74 percent shooting percentage from the floor.
The Huskies had a 24-4 record when Hershey was a senior and the lone returning letterwinner in 1954-55, went 32-1 when he averaged 26.6 points a game as a junior. He finished his career with 1,183 points.
Hershey had an incredible 43-1 career record as a varsity pitcher for the Huskies, according to late coach Roy Bates (WCSHOF 1978), who also coached him in basketball during his sophomore and junior seasons.
The remarkable feats for Hershey, now 80 years old, continue to this day as he maintains a 4-handicap in golf.
After high school, Hershey played basketball for one year at Ashland University and enjoyed success there, but wound up leaving school. He went to work for his family business –  Hershey Barbershop in Medina.
That was far from the end of his competitive playing days, though.
Hershey played for the Northwestern Athletic Club in a men's league and had 28 points at halftime in an exhibition game against the Harlem Globetrotters. A furious Goose Tatum of the Globetrotters told Bates during the intermission that he didn't want Hershey to score anymore points. The Trotters were supposed to be the stars of the show – not Hershey.
In another game for the NAC, Ohio State player Bob Knight (WCSHOF 1976) stated in a Daily Record preview article that his squad, which consisted of several Buckeyes' second-teamers, would stop Hershey. The NAC sharpshooter led a blowout win with 48 points.
Dean Chance (WCSHOF 1976) stated in a Daily Record article that the NAC wouldn't let him and Hershey play on the same team because it wouldn't be fair. "Don Hershey may be the best basketball player to come out of Northwestern," Chance said.
Hershey also became an outstanding fastpitch hurler for some of the top adult teams in the region, playing for Wooster Shearer and Marion K&W Plumbing. The latter set him up with an apartment and barbershop to lure him there to play from 1964-69.
Hershey didn't have a handicap in golf until he was 75 when he really got serious about it and still plays four days a week at Mohican Hills.
Along with his wife Becky, the Hersheys have three children: Dave, Ted and Cathy Ballinger.
Despite a lifetime of achievements, Hershey will be remembered most by sports fans for his 67-point game in 1955.
Hershey had grown four inches since his junior year to stand 6-foot-2 as a senior. He said in a 2013 Daily Record interview that Northwestern superintendent Leo Welty decided after the game had started against last-place Fredericksburg that he wanted Hershey to break the County scoring record – held by Doylestown's Jerry Galehouse (59 points, WCSHOF 1988).
"Mr. Welty came across the gym and talked to Baker after the first quarter," said Hershey, whose brother Roger (NHS class of 1957) also was a Huskies' standout. "He said, 'We want the scoring record back at Northwestern.'
"So in the huddle, Baker said, 'Throw the ball to Don!'" Hershey recalled. "You don't break a record like that without great teammates throwing you the ball and they did a great job finding me the rest of the night."