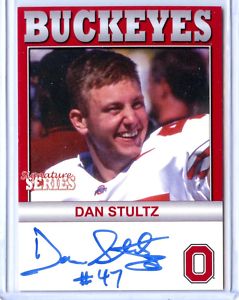 Dan Stultz was an all-around athlete who lettered in both basketball and track at Orrville High, but the 1995 OHS graduate made his biggest impact when his right foot met the football.
Stultz is one of a long line of outstanding place-kickers who have played for the Red Riders.
He's also the most accomplished, in both his high school and college careers.
Stultz lettered twice with both the track and basketball teams at Orrville.
In football, he lettered four times, and then went on to play in both the Ohio North-South and Big 33 football games following his senior season.
When he graduated, he held just about every kicking record, including most career field goals, most field goals in a season, and the longest FG in school history, a 53-yarder against Mansfield Madison in 1993.
Stultz also had field goals of 52 and 48 yards (twice).
His 43-yarder in the 1994 state title game was also the longest ever, and he was named first-team All-Ohio as both a junior and senior.
Stultz then became a four-year fixture at Ohio State, where he appeared in 50 consecutive games in earning four letters for the Buckeyes and played in four bowl games—the 1997 Rose Bowl, the 1998 and 99 Sugar Bowls, and the Outback Bowl—and also appeared in the 2001 Hula Bowl.
He could kick with the pressure on, too, with two-game-winning kicks for the Buckeyes—beating Minnesota with a 38-yarder and Illinois with a 34-yarder.
His 55-yard three-pointer is the longest in the history of Ohio Stadium. A three-time Big Ten Special Teams Player of the Week, Stultz was a first-team All-Big Ten pick in 2000.
Upon graduation from OSU, Stultz, with 341 points, was No. 2 on the school's all-time scoring list behind 1970s fullback Pete Johnson (348).
He's currently No. 3, as kicker Mike Nugent ascended to the top of the list several years ago.
Now a resident of Columbus, Stultz is a manufacturer's representative in the plumbing business. And, for those who doubted his ability on the big stage he's also remembered at Orrville High for performing in a lead role in two plays—"A Few Good Men" and "South Pacific."