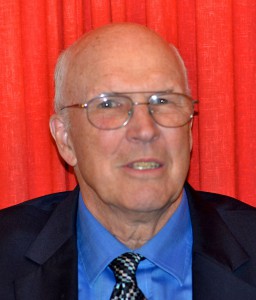 Dale Weygandt made his mark as an athlete in Wayne County, then went outside the area for a long, productive coaching career, all combining into his induction with the WCSHOF Class of 2012.
He began his high school days at Chester High School, where he lettered twice in basketball and baseball, and was then part of the newly opened Northwestern High School. He was a standout in both sports for the Huskies, with his prep career lasting from 1949-53.
In basketball at Northwestern, Weygandt was the starting center on teams that combined for a 52-2 record, with the Huskies making it to regionals his senior year, after which he was named first-team All-Wayne County League, first-team All-Sectional and Honorable Mention All-Ohio.
On the baseball diamond, Weygandt got behind the plate as a catcher in high school and never left that position until he graduated from The College of Wooster. He was named first-team All-WCL as a junior and senior, batting .440 in 1952 and .438 the next season. His senior season, Northwestern was again a regional qualifier.
Weygandt continued his two-sport ways collegiately at Wooster, lettering three times in basketball and starting every game but one in four seasons as the Scots' catcher. As a senior, he was a captain and was named first-team All-Ohio Athletic Conference.
Weygandt's coaching career began in Wisconsin at Iola-Scandanavian High, where helped start up the football program, then served as head basketball and baseball coach, winning a basketball conference title in 1964.
Moving back to Ohio, Weygandt began a varied 20-year coaching career at Medina High, including two decades as the Bees' head baseball coach. During that span he had three conference titlists, four runner-up finishes and five district runner-ups.
He also coached the girls basketball team from 1983-92, winning a pair of conference titles and earning Coach of the Year honors twice. Weygandt also found time to start the boys gymnastics program at Medina and coached the team to 14th at the state meet.