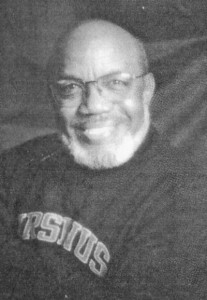 Trying to fit the accomplishments of Dr. William Robert "Bobbie" Crigler into a short biography is virtually impossible.
As a young person, Crigler was a pioneer in many ways, and he has now spent more than five decades helping young people in California, where he landed after attending high school at Orrville and college at Ursinus (PA).
While at Orrville High, Crigler lettered four times as the catcher for the Red Rider varsity, and added two letters in both football and basketball before graduating in 1952.
He wasn't to be messed with at Ursinus—Crigler was the school's 137-pound boxing champion for three years and the wrestling champion at the same weight for all four years.
He also earned four letters as a second baseman on the Ursinus baseball squad and lettered three times in football.
In the classroom was where Crigler blazed his brightest trail.
When he graduated from Ursinus, he became the first African-American from Orrville to earn a college degree, as well as becoming his college's first African-American grad.
His thirst for knowledge continued as he went west to Pepperdine University and earned a Master' Degree in Public Administration, and then became the first African-American from his hometown to pick up a Ph.D., in Government from Claremont Graduate School.
For the first 17 yeas of his career, Dr. Crigler held a variety of positions with the Los Angeles County Probation Dept., and then spent 15 years in the classroom at various colleges and universities in California, including UCLA and Cal State-Long Beach.
He spent five years as the Assistant Executive Director of Penny Lane, a residential treatment center for Children ages 10-18.
Currently, he is Executive Director of Chapparel Treatment Center in Colton, California, a pre-psychiatric hospital treatment program for adolescents, and is also a consultant and visiting lecturer to the Public Administration Department at California State University, Dominguez Hills.
Athletically, Crigler stayed active as a coach from 1966-83, leading teams in Los Angeles and South Carolina to youth football titles.
He was also an all-league catcher for the U.S. Army at Camp Irwin, California.