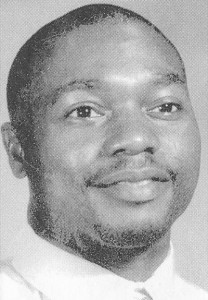 You name it and Anthony 'Tyrone' Mosley has probably done it when it comes to Orrville athletics.
The 1989 Red Rider graduate was a three-sport star for the Red Riders and went on to star in football and basketball for Baldwin-Wallace College.
All totaled, Mosley earned 11 combined letters in four sports while at Orrville.
After college he returned to coach at Orrville 13 years ago and has dedicated his life to helping athletes in his hometown ever since.
Mosley lettered three years in football for the Red Riders and was a team captain as a senior.
He intercepted 20 passes in his career for Orrville, including nine as a junior.
As a senior running back, Mosley led the Riders in scoring.
Orrville won 10 games in each of the three seasons Mosley played varsity.
He has the distinction of having played for two WCSHOF coaches at Orrville, suiting up on Mo Tipton's last two teams in 1986-87 and Bill McMillan's first squad in 1988.
On the wrestling mats, Mosley was also a team captain as a senior.
The four-year letter winner saved his best for last, placing fourth at the state meet with a 34-2 record as a senior.
He also went to state as a junior. Mosley also earned three letters in track and started one season on the Orrville baseball team.
After continuing his career as a student-athlete at B-W, Mosley could only be labeled as 'Ironman.'
Mosley started all 41 games for the Yellow Jackets football team while he was there and never even missed a practice.
Perhaps even more impressive, Mosley never skipped a class either.
While at B-W, Mosley set the school record for most punt returns and longest punt return for a touchdown.
He was also a key contributor in track for the Yellow Jackets.
Since returning to Orrville, Mosley has been an assistant football coach for 13 years and been involved with the track program for that long as well.
Mosley was the girls track coach from 2002-05 before taking over the boys team this spring.
As a sprints coach he has directed an incredible 52 state placers, including 10 champions and 11 runners-up, prior to this year's meet.