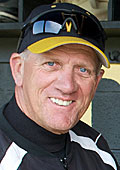 Timothy C. Pettorini had a passion to coach baseball.
That burning desire did more than just curb his path from a professional baseball career; it became the foundation on which one of the most respected college baseball programs in the nation has been built.
Pettorini was drafted twice to play professional baseball, once as a senior at Columbus Eastmoor and the second as a senior outfielder at Bowling Green State University.
The All Mid-American Conference honoree instead followed his heart and decided to take up coaching and has never looked back.
In Pettorini's 25 years at The College of Wooster, the Fighting Scots have been one of the most consistent and revered programs in Div. III.
Under his direction, the Scots have won 30 or more games 17 times, including a school-record 46 wins in 1997, and have never suffered a losing season.
All told, Pettorini has a 799-302-6 career record for a .720 winning percentage.
He is one win away from becoming just the 10th coach in Div. III history to reach 800 career wings.
The Scots have won a North Coast Athletic Conference record 11 titles, appeared in 16 Mideast Regional Tournaments and have made four berths in the Small College World Series.
The Scots have ended the season ranked among the top 15 teams nationally 16 times, including a national runner-up finish in 1997 and third in 2005.
The Scots winning tradition has been fueled by Pettorini's fiery approach as well as his knack for finding talent and getting the most of his players.
The four-time ABCA Mideast Region Coach of the Year has produced 21 All-Americans, including the National Player of the Year in 1995 in Luke Ullman. Pettorini has had more than 100 all-conference and Mideast Region postseason honorees, while coaching the record holders in nearly every category in school history.
Pettorini was a four-year starting outfielder at Bowling Green State University and began his coaching career at Fremont Ross, where he led the Little Giants to a 64-20 record from 1977-81.
He and his wife, Rhoda, reside in Wooster. His eldest son, Tim, lettered at Wooster from 1992-95, while his youngest son, Terry, played at Oho State from 2001-2003.