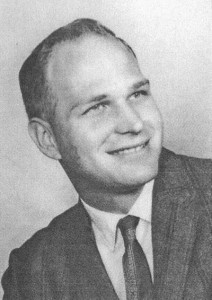 When the late Roy Bates once called Stan Totten "the best shooter I ever coached," that should let everyone know how special a basketball player he was.
Totten was a star on some outstanding baseball and basketball teams that Bates coached at Northwestern in the early 1950's.
After graduating from Northwestern in 1954, Totten took his talents to The College of Wooster where he played four years of varsity basketball and baseball.
He went on to enjoy a distinguished career as a geology professor at Hanover College in Indiana.
Totten enjoyed the rare combination in high school of posting some great individual numbers on teams that also had incredible records.
The sharpshooter started as a junior and senior for Northwestern basketball teams that went a combined 57-4 and he earned All-Wayne County League honors both years.
Counting four years of varsity play and two years of some JV participation, Totten's teams went an amazing 127-1 in non-tournament play, with the lone loss coming against eventual Michigan state champion Lansing Eastern.
Totten led the WCL in 1953-54 with 27.6 points a game and averaged 21.9 for the entire season.
A first-team all-state performer, Totten finished his career with all the Northwestern scoring records at the time: single season (548), game (42) and career points (1,072).
He was the first Husky to top 1,000 points.
As a baseball player for the Huskies, they went a combined 81-6 during his three years on varsity.
He was a first-team All-WCL third baseman as a junior and senior.
Totten was a two-year starter at guard for The College of Wooster and scored 25 second-half points against Ashland in 1957 for a school record. He played every inning of every game in baseball for the Fighting Scots in 1957-58.
Totten has had an equally remarkable career as an educator. He earned a doctorate in geology with highest honors in 1962 from the University of Illinois.
He was a professor of geology at Hanover College for more than 40 years and remained involved in athletics by serving as Hanover's faculty athletic representative to the NAIA, NCAA and several leagues the school was affiliated with.
In 2000, Totten founded the Hanover College Museum of Natural History and has served as curator since that time.