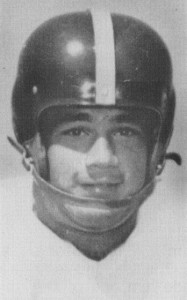 When it came to versatility, few in the history of Wooster High School athletics could match 1950 graduate Ronald D. Calabria.
Calabria was a 3-sport star in football, basketball and baseball for the Generals. He made his biggest impact on the gridiron, where his all-around skills were put to use as a runner, passer and punter.
After graduation, Calabria lettered as a running back at the University of Southern California where he played behind All-American Frank Gifford before cracking his way into the starting backfield as a senior in 1955.
Calabria, who was selected for the Wooster High School Hall of Fame in 1988, will be inducted posthumously into the Wayne County Sports Hall of Fame's Class of 2000 on Saturday, June 24, in a ceremony at Wooster High School.
Also a part of the WCSHOF's newest class are Erich Riebe, Ernie Moore, Beverly Crafton, James Bradley, Tom Bolyard, Stacie Howard-Carpenter, Joe Kikume, John Wachtel and Robert Rhoads.
Calabria was part of one of the greatest backfields in area history, joining with fellow running backs Jack Palmer and Ben Massaro and quarterback Dick Graham to lead Wooster to a 9-0-1 mark in 1949. Calabria and Palmer scored 16 touchdowns apiece, while Massaro racked up 15.
That General team outscored opponents by a whopping 394-73 margin under coach Gene Coleman and was ranked ninth in the final state poll. The only team to slow Calabria & Co. down was Canton Central Catholic, which played Wooster to a 7-7 tie in Week 5.
Accepting on behalf of Calabria, who passed away at age 55 in 1988 as a result of a brain tumor, will be Massaro. Another former teammate, Richard DiScipio, will present Calabria.
As a baseball player for the Generals, the left-handed Calabria once pitched a no-hitter and 1-hitter in consecutive starts. In basketball, Calabria was the second-leading scorer on the 1949-50 squad.
At USC, Calabria played in the 1953 and 1955 Rose Bowl games.
Calabria then completed a tour of duty in the US Air Force before returning to Wooster High School to teach and coach in the early 1960s. He would later teach closer to Cleveland.
After his grid career was over, Calabria became an exceptional golfer.
"Ron left us to soon," said Graham, who accepted at the Wooster HOF ceremony on behalf of Calabria 12 years ago. "He passed away six weeks after he was indicted into the Wooster Hall of Fame.
"I think he was probably the best athlete I played with during that era and he was certainly the classiest athlete. He was a great guy."
Calabria's late father, Dom, one of the area's all-time great fastpitch softball hurlers, is also in the WCSHOF.