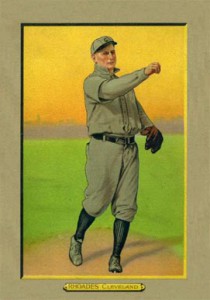 Robert Barton "Dusty" Rhoads was born in Wooster in 1879 and graduated from Wooster High in 1899. He was instrumental in organizing the first town football team, playing in 1897, and '98 before the advent of high school football.
Rhoads' football prowess led to an offer from the semi-pro Shelby Blues, where he spent 1899-1900 before traveling to Memphis, Tenn., to continue his grid career. In Memphis, he attracted the attention of the minor-league baseball team, signing on for the 1901 season.
By 1901, Rhoads was in the majors after Memphis sold his contract to the Chicago Cubs. The right-handed pitcher was 4-8 with the Cubs and 5-8 with St. Louis Cardinals before finishing the 1903 season with the Cleveland Naps.
Starting in 1904, Rhoads posted five straight winning seasons for the Naps and retired in 1909 with a lifetime record of 97-82. His career ERA in Cleveland ranks second in the club history. His 19 shutouts are 10th best in Cleveland annals.
Rhoads' best two seasons were 1906 and 1908. In 1906, he was 22-10 with an ERA of 1.80, while two years later he was 18-12 with a 1.77 ERA. On Sept. 18, 1908, he pitched a no-hitter in a 2-0 victory over the Boston Red Sox.
Rhoads threw a pitch he called "The Merry Widow," similar to the slider of today. Considered by many the most dapper dresser in the big leagues, Rhoads was a flamboyant individual who provided the team with $1,600 in 1907 to keep it from running out of funds during spring training. Imagine today's players doing that.
Rhoads lived his final years in California, dying in 1967 at the age of 87.