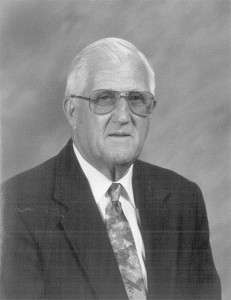 Pastor O.J. Thompson's athletic career has not only spanned the years, but has also crossed a spectrum of sports.
From baseball to softball, to basketball to swimming, to football and golf, Thompson's fingerprints are found just about everywhere sports are played in Northeastern Ohio.
Thompson was a longtime sports leader in the area, highlighted by serving as the WCAL commissioner for 27 years.
The Smithville resident was also a longtime sports referee, the past president of the Wayne County Officials Association, P.A. announcer for the Smithies football team and a youth sports coach.
As an athlete, Thompson found his niche as a swimmer during his high school days at Canton McKinley High School, where he was a 1940 graduate.
He was a lifeguard at Akron's Turkeyfoot Lake his senior year and later swam for the Findlay YMCA.
Thompson later made his mark as a coach, guiding the Smithville High School golf team for one year while also coaching the Burbank Junior High basketball team.
He also spent time as a little league coach.
He played church league softball in Lima from 1948-1952, also coaching fifth grade girls basketball while living in Western Ohio.
However, it was as a sports referee and administrator that Thompson left his greatest legacy.
Thompson spent 19 years as an Ohio High School Athletic Association basketball official, and another 26 umpiring high school baseball and softball.
He officiated for baseball on the regional and state level and was a member of the first Wayne County crew to umpire a state championship baseball game.
With experience came leadership positions that he held for decades.
Thompson was president of the Wayne County Officials Association and also spent 27 years as the WCAL commissioner.
He also served as the commissioner of the Cardinal Conference for three years.