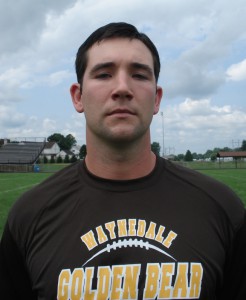 Matt Zuercher could be called "Mr. Waynedale."
As a high school athlete there from 1994-98, Zuercher was one of the top all-around sportsmen the school has ever produced.
After a successful four-year career as a fullback for the University of Akron, Zuercher returned to teach and coach football at Waynedale.
While his athletic resume is complete, Zuercher appears to be headed for an equally bright career as a coach. He led the Golden Bears to a 7-3 mark in his rookie season at the helm in 2006.
They improved to 9-3 last year, won a Wayne County Athletic League co-title and made the playoffs.
Zuercher was already like a coach on the field by the time he was an upperclassman at Wayndale.
The Golden Bears went 12-1 during Zuercher's senior year in 1997, reached the Div. V state semifinals and set school records for wins and shutouts (five).
The running back-linebacker was a first-team All-Ohio honoree, as well as earning Player of the Year honors for the Northeast Inlands District and Daily Record.
Among the football records Zuercher holds are most tackles in a game (24), season (162) and career (559).
He's also third for the Bears with 2,630 career rushing yards and 44 touchdowns.
Zuercher was selected a linebacker on The Daily Record's 50th anniversary All-Time WCAL All-Star team.
Those kinds of football heroics overshadow the fact that Zuercher was also a talented basketball player.
He's actually the school's all-time leading rebounder and fourth in points (930).
Zuercher was also an honor student and considered a role model at Waynedale. He was voted the Roy Bates Player of the Year as a senior.
The Akron Zips took notice of Zuercher's talents and offered him a full scholarship. Although Zuercher did not generate the headlines he did as a prep star, he was a key part of the Zips' success as a blocking fullback.
He was one of three out of 20 freshmen recruits in his class who weren't red-shirted and went on to lead the way for three of Akron's top 11 rushers of all-time.