By MIKE PLANT
Daily Record Sports Writer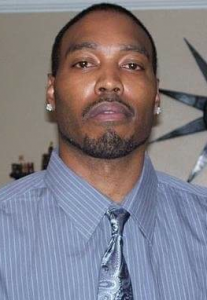 The list of terrific athletes to come out of Orrville High School is a long one.
At the top, or at least very near, has to be Marcell Denson, OHS Class of 1996.
Although he ran track as a freshman and senior, Denson turned his unparalled athleticism into unbelievable accomplishments on the basketball court and football field for the Red Riders. He earned four letters in basketball and three in football, as well as twice being named a first-team All-Ohioan in football and once in basketball.
On the gridiron, playing for OHS teams that reached the state final in 1994 and the state semifinals the next season, the 6-foot-4 Denson was nearly impossible to cover, latching on to 27 touchdown passes over the two seasons. That earned him consecutive berths on the AP All-Ohio first team in Div. IV.
Suiting up for Steve Smith in basketball, Denson was a rare freshman starter and by the end of his prep career started a school-record 103 games. He didn't just start, he produced, graduating as the prestigious program's all-time leader in both points (1,722) and rebounds (782).
Individually, after earning third-team All-Ohio honors as a sophomore and junior, Denson not only was a first-team pick as a senior, but he was also named Div. II State Player of the Year after averaging 18.4 points, 8 rebounds, 3.5 assists and 2.5 steals per game.
Along with fellow Wayne County Sports Hall of Famer and classmate Renauld Ray, Denson led the Riders to back-to-back state championships in 1995 and 1996, and Orrville became the first school to move up a class and repeat as state titlists.
On both teams, Denson would be named the Most Valuable Player at the state tournament.
As a junior, when the Riders romped past Wheelersburg 79-50 for the Div. III title, Denson scored 23 points, grabbed seven rebounds and passed for five assists, all while holding Wheelersburg's top scorer to eight points on 2 of 14 shooting.
Denson certainly went out in a blaze of glory as a senior at state, pouring in 30 points, including the game-winning basket as Orrville edged Ottawa-Glandorf 64-63 for the championship.
Along the way to state success, of course, Denson accumulated more honors than he could possibly carry, including selection in back-to-back years as the AP Inland District Player of the Year in basketball. He was also nominated for the McDonald's All-American team.
As any Orrville follower knows, though, it didn't take a list of awards to discover how great Marcell Denson was in two sports for the Red Riders.
All you had to do was watch him play.