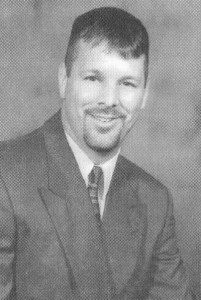 When one thinks of Waynedale wrestling, the first name many think of is Louie Stanley. In fact, Stanley is at the top of the list for contributors to the sport in all of Wayne County.
As a wrestler for Waynedale and now coach, Stanley has helped the Golden Bears battle archrival Northwestern year after year for bragging rights in the Wayne County Athletic League. The Bears have also made their mark on a much larger stage, with a steady parade of grapplers to the State Wrestling Tournament over the years.
That list of state qualifiers includes Stanley, who went as a senior 175-pounder in 1986 during a campaign in which he sent 31-1. Stanley was a four-year letter winner on the mat for the Bears, had 82 career wins and set numerous school records. He went on to wrestle for Baldwin-Wallace College and led the team in pins in 1988.
After college Stanley returned to Waynedale to coach the wrestling team, where he has coached 17 state qualifiers and four state placers. He led the Bears to WCAL titles in 1996, 1997, 2003, and 2004.
Stanley may be most connected with wrestling, but he has also enjoyed a tremendous run with the Bears' football program. He was an All-Ohio tight end on Waynedale's 1985 Div. IV State Final Four team playing under coach Jeff Soures, who is also in the 2004 WCSHOF class.
During the Bears' memorable first playoff season, Stanley was named WCAL MVP and was also a third-team AP All-Ohioan and a UPI special mention All-Ohio pick. He was voted onto The Daily Record's 50th year all-time WCAL All-Star team last fall.
The Golden Bear great has also been a long-time assistant coach for the football team under Bill Seder.
Stanley is an avid slow-pitch softball player and enjoyed a major highlight in 2001 as a player-coach when he led Millersburg East of Chicago Pizza to the USSSA Northern Class D state championship.