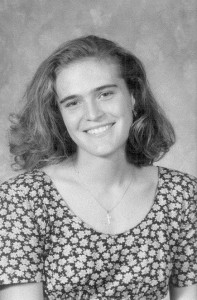 No matter where Keri Hamsher has been, she has been associated with winning.
Simmons-Hamsher started her athletic career at Orrville High School, where she collected a staggering 12 letters combined in basketball, volleyball, and track. More impressively, she was a two-time All-Ohioan in volleyball and basketball and three-time all-state performer in track.
A 1994 graduate of OHS, Hamsher set the Wayne County record for the high jump (5-7) at that time and was a four-time state finalist in the event. She led the Red Riders to regional titles in volleyball in 1992 and 1993, while earning first-team All-Ohio honors in 1993.
Hamsher's biggest accomplishments came on the basketball court, where she led Red Riders to the regional title in 1993. She earned first-team All-District selection in 1992, 1993, and 1994 and second (1994) and third-team (1993) All-Ohio honors, while finishing first in career steals and assists, second in career rebounds and third in scoring. She also authored the single-game records for steals.
Hamsher took her multi-sport skills to Div. I Marshall University, and quickly made her mark. She lettered four years in basketball, earning Southern Conference MVP honors in 1996, after leading the Thundering Herd to the conference title and the program's first appearance in the NCAA National Tournament. She also garnered a letter in volleyball, helping Marshall to the Southern Conference title in 1995 and a bid in the NCAA National Tournament.
In 1999 Hamsher was voted No. 30 on The Daily Record's 50 greatest athletes of the 20th century list.
Hamsher, a member of the Orrville High School Sports Hall of Fame, followed up her collegiate career with coaching stints at the College of Charleston (assistant basketball) and Muskingum College (head basketball). She recently was hired as the athletic director and head volleyball coach at Waynedale High School.
She and her husband, Mike Hamsher, are currently raising three daughters, Shadra, Sierra, and Ainsley.