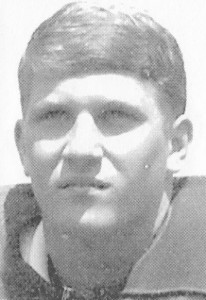 More than a few middle-age men in Wooster would admit that when they were young they wanted to be John E. McCoy. And why not?
McCoy was one of the Generals biggest sports stars of the early 1969s and went on to star on the football field for the Ohio State Buckeyes.
A spot in the WCSHOF is probably long overdue for McCoy, who was a three-sport standout for Wooster High School before graduating in 1963.
In football he topped 1,100 yards rushing in just nine games as a senior for a 7-3 team coached by Roman Majerczak.
He was also a standout basketball player in the winters for Wooster.
In track, McCoy set the school shot put record with a heave of 53 ½ feet that stood all the way into the early 1990s.
He also held the discus records for a short time.
After an incredible final year at Wooster, McCoy was voted as Generals All-Sports Outstanding Senior Athlete in 1963.
McCoy really added to his legacy as a three-year letter winner on the gridiron for Ohio State. The bruiser lettered as a full-back as a sophomore before being moved to linebacker his final two seasons.
It was on defense where McCoy became a hero to the entire Buckeye state for a time.
He is credited with making the game-saving tackle for Ohio State at its own 3-yard line to preserve a 9-7 win over Michigan in 1965.