By MIKE PLANT
Sports Editor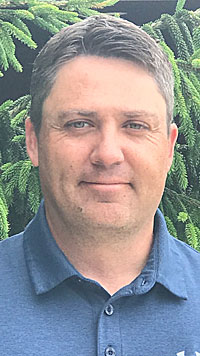 Joe Tomlinson's business career has taken him to the top — he's currently the President of the Biery Cheese Company at its headquarters in Louisville, near his home in Massillon.
In athletics, first at Rittman High School, then Ohio State and finally at Walsh University, he could also be called a "big cheese."
One of the most versatile athletes in Rittman High history, Tomlinson accumulated 10 varsity letters for the Indians, becoming a rare four-year letterman in football and adding three more in both basketball and baseball, then moving on to a successful collegiate baseball career.
On the gridiron, Tomlinson hauled in 84 career receptions for 1,482 yards, rushed for another 643 yards at over six yards per carry, and scored 255 total points, including 32 touchdowns, in his four seasons.
Along the way, he earned first-team All-Wayne County Athletic League and All-District berths, and received the ultimate honor when he was named first-team All-Ohio.
Switching over to basketball in the winter, Tomlinson was the point guard for the 1992-93 Indian squad that captured the WCAL championship — the last team at RHS to do so until the 2017-18 Indians ended the 25-year drought.
The baseball diamond is where Tomlinson shined brightest, though, both in his three seasons with the Rittman varsity and in college.
With the Indians, he batted .514 as a senior — with an on-base percentage of .663 — and was named the co-MVP of the WCAL and a first-team All-Ohioan.
After graduating, Tomlinson was off to Ohio State, where Buckeye teams he was a member of won back-to-back Big Ten titles in 1994 and 1995.
He then transferred to Walsh University and joined the baseball team there, and in three seasons, became one of that school's all-time greats.
As a freshman, Tomlinson batted .353 with 17 doubles, five home runs and 33 RBIs, earning the first of his three consecutive Mid-Ohio Conference first-team selections. His 17 doubles in a single season is still a Walsh record.
The next season, the outfielder hit .397, with 34 runs scored, seven doubles, four home runs and 34 RBIs. He then capped off his Walsh career by hitting .396 as a senior with 12 doubles, 31 RBIs and Walsh Male Athlete of the Year honors. His career batting average stands at .380, with 36 doubles, 15 home runs and 108 RBIs, and he's in the top 10 in six career categories and four single-season categories.
He served as a graduate assistant in baseball at Walsh in 1999 and 2000, and then was inducted into the school's Wall of Fame in 2006.
He's also in the Rittman Hall of Fame.
Tomlinson and his wife Sheri have three children, Paige (13), Sammy (11) and Ella (8). They reside in Massillon.