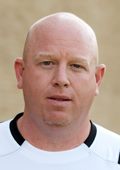 Some say great players don't make great coaches. Doug Cline has proven the naysayers wrong.
Cline was a two-sport star at Northwestern High School in baseball and basketball, but made his mark on the hardwood. The 1990 grad was a three-time, first-team All-Wayne County Athletic League selection, including special mention All-Ohio honors in 1989 and league and District 4 Coaches MVP selection in 1990. He was also an All-Wayne County and District 4 Coaches selection in 1989 and 1990.
After scoring 1,422 points and ranking second all-time on the Huskies' leaderboard during his illustrious prep career, Cline went on to anchor The College of Wooster Fighting Scots' frontcourt. As a four-year starter, the undersized power forward led the Scots to a 91-21 record, including three North Coast Athletic Conference Tournament titles and three appearances in the Div. III NCAA National Tournament.
Cline finished his playing career on 'The Hill' ninth all-time in scoring (1,396 points), eighth in rebounding (769) and third in field-goal percentage (60.7).
Since graduating from The College of Wooster in 1995, Cline has been a steadying force on the Scots bench. In his eight seasons on head coach Steve Moore's staff, Cline has helped the Scots to an incredible 197-37 record, including an 85.8 winning percentage in the 2000s and a third-place finish in the Div. III National Championship Tournament in 2003.
Cline's credentials as a consistent recruiter and big-man coach have earned the tag as one of the top small-college coaching talents in the country. Cline resides in Wooster with his wife, Lauren, and son, J.J.