By AARON DORKSEN
Daily Record Sports Editor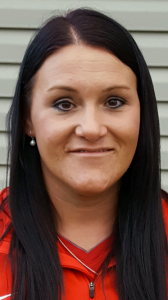 Norwayne has been one of the most successful schools from the Wayne County Athletic League at the state level in the 2000s.
The Bobcats have won a state title in football, have had two wrestling champs, and three individuals and one relay winner in track.
Getting the gold rush started for Norwayne was Brianne (Morlock) Indorf, who won the school's first state championship in any sport when she captured the Div. III discus title in 1998.
While that may stand out as the crowning feat of Indorf's career, it was just one one of many achievements that still lead many to call her Norwayne's best all-around female athlete ever.
Indorf graduated with four letters apiece in volleyball, basketball and track. She's still the school's only girls athlete to earn 12 letters in three sports.
In volleyball, Indorf earned first-team All-WCAL honors as a sophomore, junior and senior and was the league MVP her final two seasons. The Bobcats won WCAL titles during her sophomore and senior years and she earned Div. III third-team All-Ohio honors as a junior.
Indorf was a second-team All-Ohio honoree as a senior and, along with younger sister Monica, led the program to its second regional appearance ever. Upon graduation, she held nine school records, including most kills in a match (17), season (225) and career (658).
On the basketball court, Indorf started every game of her career, led the Bobcats in scoring and rebounding all four years and graduated with more than 1,000 career points. She duplicated her volleyball feat as a first-team All-WCAL performer in grades 10-12 and was a second-team honoree as a freshman.
Making her biggest statewide impact in track, Indorf qualified for the regional meet all four years in the discus and shot put. Her state-winning discus throw of 128-0 was the Norwayne school record for a decade and a 41-4 1/2 shot put throw from the state qualifier in that event is still the school's best.
Indorf played volleyball for two years at Ashland University before transferring to Akron to finish her degree in special education. After starting her volleyball coaching career by winning several league titles at Medina Buckeye, Indorf was thrilled to he hired to coach the Bobcats in 2011.
She's now a teacher and the head volleyball coach at Norwayne, as well as an assistant track and field coach. She's married to Bobcats' head football coach Adam Indorf and the couple has two boys, Cayden, 7, and Bryson, 5.