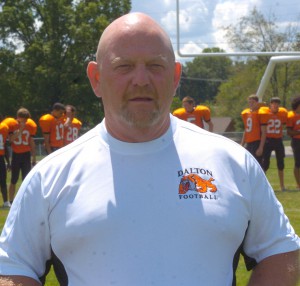 Bob Ramsay had no idea when he started as the head varsity football coach at Dalton in 1981 that he would not only continue the school's proud tradition, but become the Bulldogs' all-time winningest coach. Ramsay is one of the area's true legends of the fall, leading Dalton to a 176-86-1 record over the last 26 seasons. That's good for a mighty impressive .669 winning percentage.
His win total is second on the all-time Wayne County list. Under Ramsay, the Bulldogs have won or shared six Wayne County Athletic League titles despite being the loop's smallest school.
And they've qualified for the playoffs eight times, including the last five years in a row.
The Bulldogs made their best playoff runs in 1992 and 2002, when they were regional runners-up.
Ramsay, who has said he'll return to coach again this coming fall, had teams win WCAL outright or co-titles in 1991, 1992, 1993, 1996, 2003, and 2005.
To commemorate the 50th anniversary of the WCAL, Ramsay was recognized by The Daily Record as one of the leagues top 10 all-time coaches in 2003.
He broke the Bulldogs record for coaching wins set by the legendary Billie J. McFarren (133-52-4, 21 years), who was inducted into the WCSHOF's second class in 1978.
Ramsay has been a teacher for 31 years and got his start as a coach as an assistant at Orrville under fellow WCSHOF member Mo Tipton from 1975-81.
Some of Ramsay's highlights also include working as an assistant coach in the Ohio North-South Game (1997) and the Big 33 Game (Ohio vs. Pennsylvania, 2004).
Ramsay has also been a longtime track coach at Dalton, where he's had numerous All-Ohioans.