By MIKE PLANT
Daily Record Sports Writer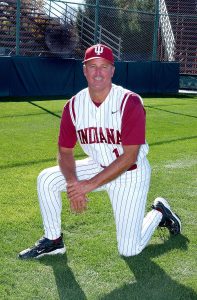 The baseball path of Bob Morgan brought him into Wayne County for just a short time.
But while he was here, he certainly made a huge impact.
The baseball coach at The College of Wooster from 1975-81, Morgan laid the foundation for a program that has had unparalleled success over the last 40 years. With the Fighting Scots, Morgan compiled a record of 213-48 (.816) over a six-year period, taking the Scots to three regional appearances and earning Ohio Athletic Conference Coach of the Year three straight years (1978, 79, 80).
Morgan's Wooster teams produced three All-Americans and seven players were either signed or drafted into pro baseball. Eventually, 85 players who played for him during a 30-year college coaching career would sign professional contracts.
From Wooster, Morgan went to Kent State and went 79-39 in three seasons, setting the school mark for wins in a season in 1982, then breaking it the next year, when KSU set an Ohio collegiate record with a 25-game winning streak.
That attracted the attention of Indiana University, which hired Morgan in 1983. He stayed in the dugout at IU until 2005, achieving a record of 782-496, the most wins of any coach in that school's history.
With the Hoosiers, Morgan won the Big Ten title in 1996 and was a two-time Big Ten Coach of the Year. In his title season, he was also named NCAA Regional Coach of the Year.
During his tenure at IU, he coached six Big Ten batting champions, two conference Players of the Year, an ERA champion, a college Player of the Year, and two Olympians, including a gold medalist.
In 2004, Morgan reached a coaching milestone when he won his 1,000th game. He retired with a career record of 1,074-583, which ranked him 11th among active Div. I coaches at the time and 26th all-time.
Prior to his coaching career, which began with two seasons at Greenville (OH) High, Morgan was a standout high school pitcher who then went on to an outstanding college career pitching at Ohio University. With the Bobcats, he lost a 2-1 game as a sophomore, then won his next 19 decisions and finished college with a record of 22-1. He then signed with the Detroit Tigers and pitched for four seasons in the high minors.
After finishing at Indiana, he coached the school's club team from 2006-11. Morgan resides in Bloomington and is a member of the IU faculty, working in the Department of Kinesiology and in several other capacities.