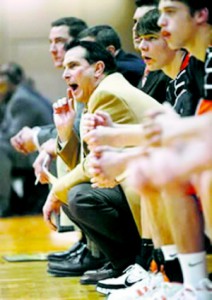 Fundamentals, doing the small things correctly, is what Randy Montgomery is all about.
Not just a head basketball coach at Triway High School, where the Titans have reached the State tournament twice and been ranked No. 1 in the State polls, but as a teacher and person as well.
In his 15 years as coach of the Titans, Montgomery has compiled a sterling 267-76 record, an outstanding .778 winning percentage, with teams employing teamwork and discipline. Under his fine guidance, the unselfish Titans have won the Mohican Area Conference championship all nine years of its existence, losing just a handful of league games in that time.
Montgomery's charges have captured nine Sectional titles to match their MAC mark, and have added three District crowns and a pair of regional championships. Triway went to State in the 1987-88 and 1990-91 seasons, the first two times in school history.
The Titans have also achieved the best single-season records under Montgomery. Twice in the last three years they suffered only a single defeat during the regular season en route to 19-1 records in '95-96 and '97-98.
Montgomery's special in other ways too.
After coming to Triway he founded the Triway Community Youth Basketball Program for all kids. Montgomery also formed an elite youth program, the Wizzards, for elementary players to not only learn the fundamentals such as passing and ball handling, but also the 'fun' part of traveling around the state to perform at a wide variety of events for a large number of people.
Montgomery also founded the Triway 3-on-3 summer tournament and summer league for players throughout the county.