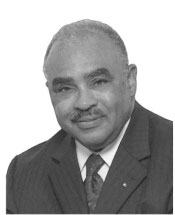 Tyrone "Ty" Barnett graduated from Orrville High School in 1961 after having a very successful athletic career. He earned four letters in football and was co-captain of the team his senior year on a team that went 9-1.
Barnett was selected as an All-Ohio Honorable Mention that same year. He was also chosen Most Valuable Player on that football team.
In basketball he earned two letters, and played baseball well enough to earn three letters. In his senior year he was selected as the Outstanding Baseball Player on the Red Rider team.
Barnett then went on to Ohio State University where he played four years as an offensive halfback and defensive cornerback on the Buckeyes football team under Woody Hayes. He earned three letters, in spite of suffering a chest injury during his career. He played in the same backfield with Matt Snell and former Brown's great Paul Warfield.
In Barnett's fifth year, he served as an OSU assistant freshman football coach.
A good friend and former teammate, Roy Lockett, said that Barnett "played well before his chest injury and was somewhat spotty afterward". Lockett was Barnett's best man for his wedding and Barnett served the same function for Lockett. They played together on the Red Rider football team, along with the Anderson brothers, Tom and Kim.
Barnett retired as a U.S. Navy Commander in 1989 and now has his own business called Operational Systems in the Washington D.C. area. He and his wife are the parents of three sons.
Barnett is a charter member of the Orrville High School Sports Hall of Fame.