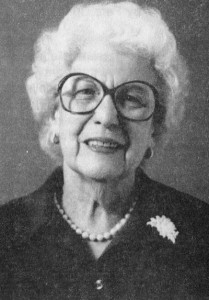 In the first three years of ladies basketball at Orrville High School, the Red and White (as they were known then) amassed a record of 42-9. This team scored 1398 points while giving up only 738. On this championship team was a young lady named Mary Koehl. She was a scoring machine for that time and place, tallying 732 of the Big Red's points during those three years. His was just six less than the combined total of all the opponents that this team faced.
To put these numbers in perspective, one must reflect on game scores at the time. The average score for this period was OHS 27 (Koehl 14.4), Opponent 14.5. A high scoring contest of the day was 40-45 points for one of the teams. Scores today would be more likely in the 60-65 point range.
Koehl was instrumental in the two Wayne County championships won by Orrville during these early years of the sport in this area. She was selected Captain of her squad in 1924-25 and was also selected as an All-County All-Star in 1925. She earned three varsity letters at OHS for her efforts. In a Centennial Supplement of the Courie-Creesent, it is mentioned that during the time of this team (1922-25), seats were at a premium at the gymnasium, and people would arrive at noon on game day to be able to get a place to see these ladies play their game. The success of this team and Koehl fostered much pride in the community at the time.
Koehl was a real pioneer and continued to develop her skills by playing semi-professional women's basketball for the Kettle Electric squad after graduation from high school. She was offered a position with a professional team from Canton at the time but turned this down in favor of staying in Orrville.
Later in life, Mary Koehl Graber moved to Plain City, Ohio where she still resides and is well thought of in that community for her continued involvement in athletics and civic affairs in that village. The mayor of Plain City, Douglas Meaige, has called attention to the many contributions she has made to that village, in a supporting letter of endorsement.
Mary Koehl Graber is a true champion and a welcome addition to the Hall of Fame.