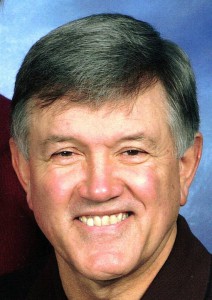 On the outside, he was calm, cool and collected, owner of a pleasant smile and an easy-going, friendly demeanor.
Inside, however, Larry Zuercher was a burning caldron, his competitive fires incessantly lit with a white-hot intensity only a special few athletes possess.
Just ask anyone who competed against Zuercher on the football field, the hardwood or the fast pitch softball diamond. Zuercher competed so fiercely, in fact, that legendary college coacher Bo Schembechler and Woody Hayes of Ohio State and Bump Elliott of Michigan all recruited the little running back form the little high school in Dalton.
From 1958-1961, Zuercher carried the ball 363 times for the Wayne County League champion Bulldogs. Every time he carried he gained a first down, or more precisely, 10.6 yards. Every sixth carry he scored a touchdown, netting 60 overall.
In his DHS grid career Zuercher gained 3,861 yards and scored 394 points. His senior year of 1961, Zuercher was named Ohio's Class A Back of the Year by the AP and was a Third Team UPI choice, when the pollster's teams covered all backs in the State.
Zuercher's senior year in basketball he was Honorable Mention All-Ohio choice, averaging 15 points and finishing his DHS career with over 1000 points.
In fact, he was talented enough to play college basketball, which he did, lettering as a sophomore at Kent State University.
Wanting to stay close to home, Zuercher had opted to attend KSU on a full football scholarship. By his sophomore year he was starting, with a three-touchdown game against Louisville his collegiate highlight. An injury later that year, and a new coach the next, cut back Zuercher's playing time thereafter.
But only on the gridiron. A lifetime .300 hitting infielder, Zuercher starred on Ohio softball diamonds for Kidron teams from 1960-1983, a 23-year career that included being named the MVP of the 1973 State tournament.
His competitive juices still flowing, Zuercher coached Dalton's Lady Dawgs to 175 victories and three Regional berths in a fine 14-year coaching career from 1982-96.
Zuerchr always competed hard and fair and his teams usually won. Then he smiled.