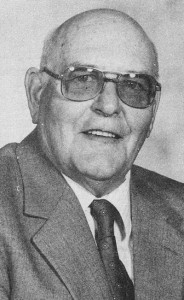 Congress High School won the OHSAA Class B state baseball title in 1933. This was the first high school athletic championship won by a Wayne County team in any sport. One of the team's two pitchers was Elden Wiles, who started at third base when not handling the mound chores. He also maintained a .400 plus batting average for the season.
The same Elden Wiles was also the most prolific scorer in the sixteen team Wayne County League from 1932 to 1935. He led the league in scoring as a sophomore and junior and should have been the leader as a freshman. He had scored 21 points in one of the games that season when the opposing coach removed his team from the floor in the fourth quarter. The games was declared a 1-0 forfeit and Wiles' points were not counted. He lost the scoring title by five points. Under today's scoring rules the points would have counted. "Link" was also deprived of a chance at yet another scoring crown as a senior. He was declared ineligible since he had played two games at another high school as an eighth grade student.
Wiles averaged 16.3 points per game over his career, establishing a WCL record for that time. In doing so, he helped pace the Senators to a co-championship in the WCL in '33-34. His high school coach commented that many of his points were scored on drives to the basket. He would also stop in the middle of a drive, jump, shoot, and score, a tactic which did not become commonplace until many years later.
After high school Elden participated in bowling, golf, horseshoes, and softball. He was a top competitor in Wayne County bowling circles and was an organizer and participant in county horseshoe leagues.
"Link" coached basketball at his alma mater in the 1944-45 season and was president of the Norwayne Booster Club in 1958. His many athletic exploits will be remembered as he joins the other champions in the Hall of Fame.