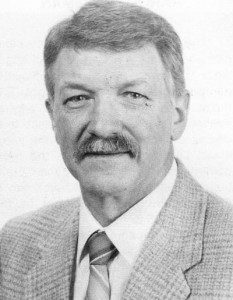 It started when he was 14 years old. He had gone to the ball yard to shag balls for the Alpine Alpa fastpitch softball team, like the other young men did in those days. Toward the end of the practice, the manager asked him if he wanted to "hit a few". He did well enough that he manager put him on the roster for the season. The year was 1955. In 1984, Jake Miller quit "hitting a few".
The game of softball took Miller from the humble beginnings of a farm in southeast Wayne County to some of the best ball parks in the nation to play with and against some of the best players in the nation, but he is still a fairly modest person. Success did not go to his head.
During the 30 seasons Miller played ball, usually at third base, he was one of the best hitters in the state of Ohio, if not the nation. He was also a very good defensive player. In 1968 or 1969, he was playing in the state tournament, the bases were loaded, nobody out. A line drive was hit to third base. Miller snagged it, touched third where the runner was leaning off, and threw to second for the triple play. He says they could have gotten the runner off first as well, for four outs, if they needed to.
Miller played for many teams in the area. After Alpine Alpha, he played for Mt. Eaton (Harry Weaver, Mgr.). Next was Tiny's Tigers in Kidron and then the Kidron Merchants. He played several years with the Faultless Rubber team from Ashland, participating in the state, regional, and national tournaments many times. Miller was on the 1973 state champion Kidron Merchants. He was also on the Mt. Eaton Quality Block state and regional championship teams. Teams he played on usually played in the Orr Park Labor Day tournament (when they were not playing a regional or national tournament somewhere), and they won it several times.
Miller carried a batting average of over .350 during his entire playing career, many times over .400 against some of the premier pitchers of the day; Rip Fugate, (later his son, Rick), Steve Baughman (Hall of Famer), and Harry Nolan to name a few from this area. At state, regional, and national tournaments, he faced some of the best in the nation. He also played with and against other players who are members of this Hall of Fame; Cordell Boss, "Junie" Gerber, Bob Knight, Ward Lehr, and Bill Shunkwiler. He batted clean up (fourth) most of the time, which meant he was the guy who was supposed to drive in the runs and he came through more often than not.
Hank Miller, former pitcher of the Mt. Eaton Quality Block team had this to say about Miller, "It was always a great honor to have Jake play beside me on the softball field. He was one of the most feared hitters in the game as well as the best third baseman any team could want." Boss who played on team with him and against him said "I'll always remember him for his sportsmanship, his competitive spirit, and his conduct as a gentleman on and off the field."