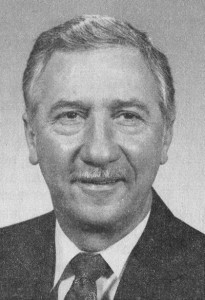 Gerald Johnson earned his initial varsity letter as a baseball player at Northwestern High School. Before receiving his diploma, he went on to garner three additional baseball letters while maintaining a .400 plus batting average over a four year career. He pitched, batted and fielded with aplomb on Huskie nines that played in Oho Class A state championship games in both 1958 and 1959. The 1959 team won the state title. Johnson continued his stellar performance at Ashland College, now Ashland University, and picking up another four monograms as a four year starter.
Gerald, known more familiarly as "Boze", was more renowned for his roundball exploits as a member of the Huskie squads that played in the Ohio state high school Class A basketball tournaments in both 1958 and 1959. Northwestern won it all in 1958 and lost in the semi-finals a year later.
Boze was an All-Wayne County League guard in both of those seasons, finishing sixth in the league in scoring as a junior and second his senior year, when he averaged 19.2 points per game. (He scored 903 points in two years.) Although his scoring prowess is well documented, he was even more spectacular as a ball handler and defensive player, two facets of the game that do not always show up in newspaper reports. Is exploits earned him First Team All-Ohio recognition in 1959.
Johnson continued his productive efforts at Ashland where he started at guard and lettered for four years. He was a member of the Eagle five that advanced to the Final Four of the N.A.I.A. national tournament in 1963.
Gerald "Boze" Johnson is truly a champion and will make a worth member of the Hall of Fame.