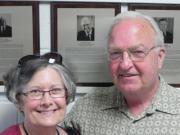 Winning has always been important to Dwight Wasson.
More important to Wasson than the act itself, however, is winning the right way—through hard work, use of fundamentals, and with class on and off the field of play.
His athletic career blossomed at Northwestern High School under coach Roy Bates his junior season, when he was the starting third baseman on one of the school's greatest baseball teams and a starting guard on one of its best basketball squads.
In baseball as a junior, Wasson batted .398 and helped Northwestern claim the Class A State Championship in 1959. He followed that up by hitting .351 the next season. Wasson's stature on the hardwood also shined in '59 as he was considered to be the best defensive player on a Husky team that posted a 26-3 record. That was after he had starred his freshman and sophomore seasons for teams that went a combined 40-0.
As a senior hoopster, Wasson was voted First Team All-Wayne County League and claimed Honorable Mention All-Ohio honors as Northwestern went 27-1.
After graduating from The College of Wooster, Wasson returned to West Salem to coach the Husky baseball team from 1969-76 and again from 1986-1991. His teams won 201 games in his tenure, with Regional championships and trips to State in 1971 and 1975 highlighting their efforts. Northwestern won five WCL crowns and advanced to Regional play four times under Wasson's guidance.
Bu he couldn't get basketball of of his blood. Wasson was first an OHSAA-sanctioned official, and then took over the reins of the struggling NHS girls' basketball program in 1984. By the time Wasson left as coach in 1993, the Lady Huskies had posted the first four winning seasons in history, including the 1989090 campaign when they won the WCL crown and advanced to Regionals for the first-time.
Wasson is now an integral part of Northwestern High sports history, both as a player and a coach; on the girls' side as well as the boys'.