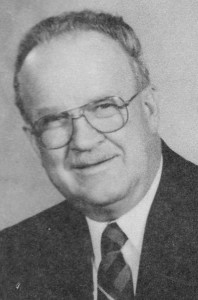 Dick Hahn played baseball and basketball at Smithville for the legendary Wilbur Berkey (Hall of Fame member). By Berkey's standards, Hahn "was one of the best hitters and fielders from his Freshman year on. In basketball he was a high scoring forward, and using the two handed set shot, he led the team in scoring. He was a quiet player, letting the ball do the talking for him." Hahn graduated in 1952.
After high school, he continued his athletic endeavors by playing basketball in the Wayne County Basketball League for Young's IGA and Elliot Feed Mill for 12 years (1951-1963), and in the Wooster Industrial League for Borg-Warner for 5 years (1964-1968). Hahn also played fast pitch softball in the Wayne County League for Smithville Cut-Rate and Wooster Equity for 17 years (1951-1968). He played on a team with Steve Baughman (Hall of Famer) as pitcher and played in the longest game ever played in the District 10 championship (32 innings) in Canton. He also played in a church league for the First Church of God for 11 years (1974-1984).
This would usually be enough for anyone to participate in sports, but Hahn was just getting started. From 1960 to 1966, he coached and helped with the Little League program. In 1967, he formed the Hahn Plastering Hot Stove "F" team and worked this team up to "D" status in 1973. Later, Wade Frank joined in the sponsorship and this team was known as the Hahn-Frank team. Wade's son, Jeff came along as the co-sponsor. For the 26 years that they have records, they compiled 637 wins and 217 losses (.746). They were league champions 15 times, state champions 8 times, runners-up twice, and semi-finalist once. They had win streaks of 25 games in 1980, 32 games in 1981, 40 games over two years (1981-82), and 27 games over two years (1982-83). Altogether, Hahn has been involved in Little League and Hot Stove Baseball for 33 years.
Hahn has also given back to his high school in other ways. He has been the official basketball scorer for 33 years. He has done all of the boys' games all this time, and has been the official scorer for all sectional, district, and regional boys' and girls' games held at Smithville since 1974. He was chosen to be one of the two official scorers for the boys' state tournament held in Columbus in 1976.
Hahn has never accepted any wages for the scoring of regular games at Smithville, only the tournament games. His son-in-law and former Athletic Director, John Foster estimates that Hahn has saved the athletic department over $11,000 for his donated services. He has scored over 1300 regular season games and over 300 tournament games.
For all of the hard work and dedication Dick Hahn has shared with the community, he will be inducted into the Wayne County Sports Hall of Fame.