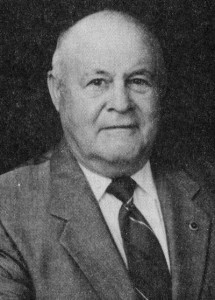 In Delbert Rauschenberg's first game of organized baseball, he went in as a late inning replacement. He speared a line drive with runners on first and second and nobody out. The ensuing triple play gained him the respect of the coach and additional playing time. Rauschenberg went on to become one of the premier baseball players to come out of Wayne County.
Little Dutch, as he was known, played high school ball at Doylestown. Most of his career, his position was shortstop. His high school batting average was over .600. He played on the 1939 Wayne County championship team at Doylestown. After graduation, he took his skills to the Lima Pandas, a class D semi-professional team He also practiced with the Akron Yankees.
During World War II, Rauschenberg spent four years In the Navy (1942-1946) serving on landing craft in the Pacific theater of operations. Returning to Ohio after the war, he married his childhood sweetheart, Connie Miller, and continued to play ball in his spare time.
Rauschenberg played for teams al around the area: Barberton Slovene Center; Akron-Moore Wrestlers, Canton Road Furniture, Smith Sheriffs, Borden Autos; Rittman, Ohio Boxboard; North Canton Hoover Sweepers; Wadsworth P.O.C.; Wooster Wayne Pioneers. He played for 12 teams over a period of 24 years, quite an accomplishment. His lifetime batting average was about.360. He was selected as a league all-star 11 times in his career. The 1955 Borden Autos team would be his selection of the best area team he ever played on.
The latter part of Rauschenberg's athletic career was spent as a coach. His daughter, Deborah, could pitch a softball fairly well and her father was the coach of the team she played on for twelve years. This seems only fitting, since his father, Emery "Big Dutch", was his coach for many of his winning seasons. Big Dutch was inducted into the Wayne County Sports Hall of Fame in the Class of 1978.
Little Dutch has been, and is, a true Champion and makes a worthy addition to the Hall of Fame.