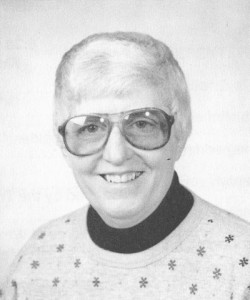 Darlene Sapp is one of the truly multi-talented athletes to come out of Wayne County. She did not just play fastpitch and slowpitch softball, golf, bowling, and volleyball; she excelled in all of these sports.
This was all done at a time when girls' sports in the high schools were almost non-existent and a young lady who wanted to perform athletically had to on her own, or at best, with a group of other like-minded young ladies on their own time, wherever they could find facilities to use. This makes her accomplishments and achievements so outstanding.
Sapp played shortstop on fastpitch teams for 11 years, because of her strong arm. She was also an offensive threat, with a lifetime batting average of .312.  The Tri-City Cardinals (her team) won the District #10 championship in 1959, and were runner up at state. This team became the Wooster Lumbers, where she was the All State shortstop in the 1960 tournament. The Lumber Ladies won the 1961 state tournament, where Sapp was again the All State shortstop.
In 1972, Sapp took up slow pitch softball and played on DiOrio's Inn team, which won the league championship three years in a row .her batting average for this period was .372. She then managed a Parlor team to the league and District #10 championships in 1976.
Bowling had been another sport at which Sapp excels. She has consistently rolled over 600 series many times a season and rolled the first 600 series in the Wooster Women's Bowling Association (654) in the 1970-71 season. Championships have come to her in this sport as well. Team, singles and doubles, all events and other championships. She has been recognized for carrying the league's highest average twice (176 and 179), high game award (264), and highest series (714). In 1981-82 she bowled in Newark, Ohio in the 600 Club Association tournament, finishing 28th.
Sapp has played golf like she plays every other sport, winning team and tournament championships the two years she played on Rubbermaid's team
One of the volleyball teams Sapp played on probably describes her approach to sports in general. They were called the "FLOORBURNS" and were the league champions for three years (1972-1974) in the Wooster Parks and Recreation league. She was league All-Star in 1972, 1973, and 1976. She had also played in the Massillon Recreation Volleyball League and her team was league champion four years and runner-up the other six. She played on the Lake Erie AAU Champs in 1967.
Darlene Sapp lives in Wooster and has worked at Rubbermaid for 30 years.