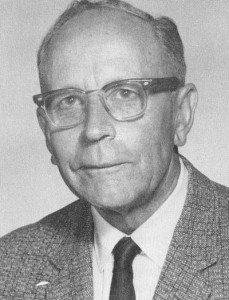 Chester Firestone graduated from Chester High School in 1925 after playing both baseball and basketball.  The game of basketball was considerably different from the game now played. There was a center jump after every made basket, so the scores were considerably lower than the 60's to 80's common in high school today. (The NBA is still another level of sport, with much more contact than in 1925).
Firestone went on to play baseball at The College of Wooster, graduating in 1929. He later earned a Master's Degree at Ohio State University.
From 1930 to 1933, Firestone coached boy's and girls' basketball and boy's baseball at Congress High School. In 1933 the baseball team won the county tournament by defeating Chester 5-2 and Creston 6-3. (The pitcher for Congress in the Chester game was Elden "Link" Wiles, a member of the Hall of Fame). This team consisted of 11 of 13 boys enrolled in the school.
In the District Tournament at McDonald, Congress bested Navarre 3-2 and Williamsfield 5-1. Both games were played in sloppy conditions.
Congress went on to beat three much larger Class B schools to win the State tournament. (Chip Dreibelbis was touted as the best pitcher in the history of Wayne County at the time by the coaches of the county.) Congress beat Independence 3 to 2, Racine 10-1, and in the State Championship game they beat Delphos 9 to 4.
This was the first state baseball championship ever in Wayne County. (Later Northwestern High School, a consolidation of Congress and Chester would win baseball and basketball championships.)
From 1934 to 1936, Firestone taught and coached baseball and basketball at Chester, his Alma Mater. He later taught and coached at Northwestern High School (after consolidation). He coached the freshman boys' basketball team and the Junior Varsity basketball team.
Chester Firestone is 88 years young and still active, but not coaching at the present time.