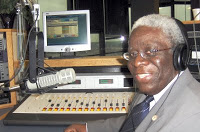 C. Reggie Williams, it is said, is proof positive that good things do come in small packages. He was always the smallest player on the team, but that did not prevent him from starring in football at Orrville High School.
He was recognized as the outstanding leader of a 7-1-1 team his senior year. The 1959 OHS graduate was co-captain and one of his lasting memories centers around a game with Jackson Township. With the Riders down by three touchdowns at halftime, Williams rallied the team to pull out a 24-22 victory. He had discovered that determination breeds confidence and that confidence is contagious. He carried that winning spirit into the classroom and was rewarded by being elected president of the student body.
He enrolled at The College of Wooster largely to please his mother, who was a dormitory maid. He had strongly considered a full academic scholarship from Dartmouth, but his Red Rider buddies insisted that he should play someplace and that someplace was with the Scots.
On the College of Wooster's game against Akron, Williams proved to be a small, but powerful package of dynamite as the Scot's won, 15-14, with him kicking the deciding point. He became a fixture at linebacker over the next three years, earning All-OAC honors and acting as field captain for all games during his final season.
Williams was on the second team All-Conference and was named the top Ohio Conference linebacker. He was a four year letterman in football and was also named to Who's Who Among Students in American Colleges and Universities.
He graduated the College of Wooster in 1963 with a BA in Biology and went on to a career in the Air Force. Along the way Williams earned a Master's Degree in Education at Westfield State Teacher's College and did work towards his Doctorate at Auburn.
His military decorations include Defense Superior Service Medal, the Legion of Merit, the Defense Meritorious Service Medal with two oak leaf clusters, the Meritorious Service Medal with two oak leaf clusters, and the Outstanding Unit Award with two oak leaf clusters. He held several command positions during his military career.
Williams retired from the Air Force in 1990 as a Colonel and received Proclamations from the City of Orrville, the College of Wooster, and Wayne County, recognizing his contribution to his home community. He and his wife, Burnedette, nicknamed "Buzz", live in San Antonio, Texas. They have two children, Bradley and Carrie.
Williams was inducted into the College of Wooster "W" Association Athletic Hall of Fame in 1982 and into the Orrville High School Sports Hall of Fame at their first inductions ceremony in 1991.