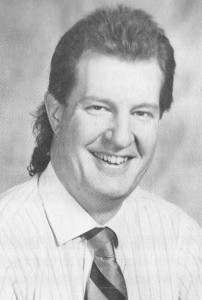 It was a moment that is fantasized by many, but actually experience by very few individuals. You are a high school senior, playing the final home basketball game of an exceptional career. Your team needs to win this game for the league championship. You have already scored forty-six points and hauled in seventeen rebounds, but it has not been enough. The game is nearing the end of the third overtime period and the score is tied. You approach mid-court, look to see the final seconds ticking off the clock, let fly with a fifty foot desperation shot and …SWISH, 48 points, the victory and the league championship. This was just one of the high spots in the career of Boyd Breece while playing at Rittman High School.
Boyd finished his senior season with a 34.4 point per game average to cap off a career that saw him score 1583 points for an overall 25.5 point average while capturing over 700 rebounds. His 469 Wayne County League points set a new single season scoring record.
Breece lettered in basketball for three seasons at Rittman and was selected as a unanimous First Team Wayne County League All-star in each. He led the league in scoring his last two years pacing the Indians to two championships. He was a UPI Special Mention All-Ohio player as a junior and attained Second Team Class AA recognition from both the AP and UPI in his senior year.
Finishing his high school career as Rittman's all-time leading scorer, Boyd received a basketball scholarship to Western Michigan University. He lettered there for one season, then transferred to the University of Akron where he gained two additional letters while playing for the Zips.
This illustrious basketball career has earned Boyd Breece his place in the Wayne County sports Hall of Fame.