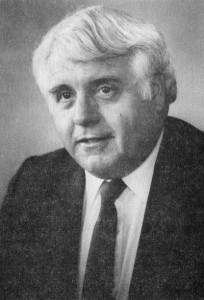 Bob McFarland arrived at Wooster High School in 1973. He was to direct the fortunes of the General football team for seventeen years. Last year he call it a career, thereby concluding a quarter century of coaching, twenty-two of which were spent as a head coach. Bob compiled a fine record of 34 wins, 9 losses and 2 ties at Highland High School to assuming leadership of the General. He twice directed that Medina County School to Inland Conference football championships.
The Blue and Gold of Wooster finished a winning record in thirteen of the seventeen seasons that Bob was at the helm. His teams won four consecutive Cardinal Conference titles from 1982 to 1985. His best effort, however, may have been with his 1986 squad. They missed out on a fifth straight Cardinal Conference championship, but they did advance to the OHSAA Division II State Semi-final game where they lost to eventual state champion, Cincinnati Purcell-Marian. Mac saw a total of sixty-two of his players selected to First Team All-Cardinal Conference honors.
Last season, Bob's career was capped off with a National Division crown in the prestigious Federal League. His final totals at Wooster show 104 wins, 67 losses, and a lone tie while his overall record as a head coach was 138-76-3.
McFarland never did stray too far from his home. He graduated from Northwest High School in nearby Canal Fulton where he won nine varsity letters while being honored as an All-Ohio tackle. He went on to pick up an additional four letters at the University of Cincinnati playing for the Bearcats football team.
His initial coaching assignment was at Highland High School where he spent three years as an assistant before taking the reins of the Hornet program. The rest is the legacy he leaves written indelibly of his accomplishments for all to see as he enters this Hall of Fame.