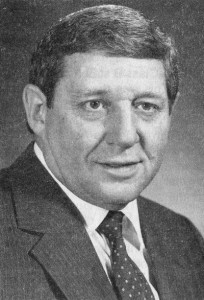 Dale "Barney" Wachtel first gained recognition as a hard-nosed football player for Shreve High School and Kent State University in the fifties and again as an outstanding football, baseball, and track coach at Northwestern High School in the sixties.
He captained the initial Shreve High School football team in 1955 and despite a minimum of high school playing experience he went on to start for a Kent State team that was MAC runner-up in 1958. Basketball was actually his better sport at Shreve and he finished in the Top Ten in WCL scoring for three seasons. He was first team All-WCL as a sophomore and junior and a second team selection as a senior. The Trojans won WCL titles in two of the four years he started. Barney also found time to play baseball and run track lettering four years on the diamond and making it to the Ohio State track finals three times. He shared the OHSAA state high jump championship in 1956.
His baseball record was even more noteworthy. His record as head baseball coach of the Silver and Blue was a sparkling 58 wins against only 6 defeats. This was capped by the 1966 season in which he piloted the Huskies to an undefeated season and the OHSAA Class A state title.
While football and baseball marked his more newsworthy efforts, Barney also had two of his track members reach the OHSAA finals in his three year stint as track coach. He also ran up 38 wins in 40 games as the basketball coach of the JV and Freshman teams.
Barney has been away from the local sports scene for many years now, but his accomplishments will be remembered as he joins other champions in the Hall of Fame.