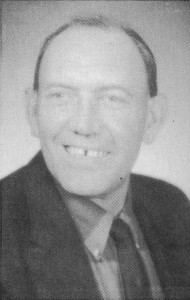 Let us suppose that Ward Lehr had never actively participated in athletics. Eliminating that aspect of his life would still not diminish his qualifications as a deserving member of the Wayne County Sports Hall of Fame.
Ward's qualifications could stand solely on his devotion to youth baseball in Wooster. He first umpired, then coached and sponsored a team in the Wooster Youth Baseball Little League, a sponsorship that has endured for more than 25 years. He then resurrected an ailing Wooster Hot Stove Baseball program and nursed it back into a healthy and successful venture. His untiring efforts have turned the Wayne County Fairgrounds complex into a showcase for both Hot Stove and high school baseball. He has given thousands of hours to enable the youth of Wooster to engage in baseball and has done it all without any monetary compensation.
Lehr, however, did actively participate in athletics and in doing so was a stellar performer in all of his undertakings. His most outstanding sport in high school was basketball. He lettered for four years at Big Prairie High School and was selected All Holmes County for three of those seasons. He tallied 1,711 career points and his single-game output of 44 points was a school record. His best season was 1950 when he paced the underdog Bulldogs to the championship of the Holmes County tournament.
Big Prairie only fielded a baseball team in his final year in high school and he lettered in that spot after earning three earlier letters in softball. His prowess at fastpitch softball led to an independent career that spanned over 30 years in local circles.
Lehr attended the College of Wooster and not only did he letter in basketball and baseball, but also football, a sport in which he had never engaged previously. He later played football in the Air Force where he starred at fullback and handled his teams punting and place-kicking.
Ward today can usually be found attending to his interests in youth baseball at the Wayne County Fairgrounds. He will be umpiring, grounds keeping, helping in the concession stand, announcing the game, or merely enjoying the role of a spectator. He also finds time to operate Lehr's Plumbing and Heating Company with his brother.