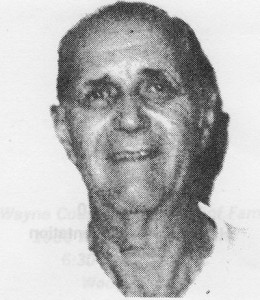 There are crossroads in the life of everyone. In Paul Maibach's case, he simply reached that stage earlier than most.
The moment of decision came after his sophomore season at Otterbein College, during the early days of the Great Depression. Paul was coming off a memorable year—he had been the playmaker and defensive ace of the basketball team. The Cardinals ran up a spectacular 13-0 Ohio Conference mark at a time when the OAC included such powerhouses as Bowling Green, Dayton and Toledo.
His exploits in baseball were equally impressive. A capable hitter, he split his duty between the mound and first base. The Columbus Redbirds, then the top farm team of the St. Louis Cardinals, were so impressed with his pitching potential that they offered him a professional contract. A little later the Akron Yankees made a similar proposition.
But the Maibach family had also reached a crossroad. After an unsatisfactory partnership, father I. W. Maibach elected to start his own firm. Paul, as the eldest of four children, felt he should roll up his sleeves and aid the family enterprise. Despite several attractive overtures from Otterbein, he stuck with his decision. After five years in a touch-and-go situation, the Maibach firm finally reached solid ground.
Paul grew up in Sterling, profiting from his association with scholastic coach Al Baumgartner. A man ahead of his time, Baumgartner's ball handling and defensive philosophies found a ready disciple in young Maibach. Paul's pass work and defense became so impressive that Otterbein coach D. K. Elder immediately gave him the responsibility of running the floor game.
Back home, Maibach became the playing manager of the Sterling Merchants, a strong independent basketball team. He also became something of a baseball legend. Possessing exceptional control, Maibach was not only the ace of the Sterling Staff, but was in constant demand by neighboring teams when a clutch game surfaced.
During World War II Paul served in the operations section of the 33rd Infantry Division. His defensive skills were still good enough to be a starter on the Division's champion basketball team. He also found time to organize and manage a bowling league.
Following the war he assumed the reins of the company, aided by other family members. Over the years Maibach has sponsored dozens of teams in various sports for both men and women. In fact, one of Maibach's bowling teams was good enough to compete for the national championship.
"There are more solid people per square mile in Wayne County than anywhere in the country" is one of his favorite remarks.