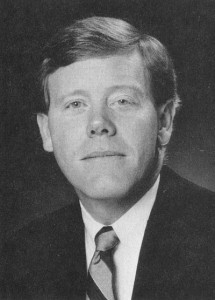 The kid could throw. He could throw hard. He could throw with accuracy. He could throw a baseball; a football; a basketball. He could throw the horsehide with enough speed and control to retire a majority of the batters he faced on the baseball field. He could fling the oblate spheroid with enough zip and precision to mass over 1400 yards of passing yardage while completing over 60 percent of his passes. Finally, he could throw (shoot) the roundball with enough accuracy (over 50 percent) to letter for seven consecutive years in high school and college.
Grenert was a three sport star at Northwestern High School where he lettered three years in basketball and four years in both football and baseball. He quarterbacked the Huskies to the Wayne County League runner-up position in 1966 and to their first ever WCL football title in 1967. He earned first team All-WCL berths in both seasons. He was selected Honorable Mention All-Ohio as a junior and Second Team All-Ohio as a senior. In addition to his 1450 yards of passing yardage, he tacked on 929 yards of rushing over the two-year span.
Mike's hardwood exploits at Northwestern gained him First Team All-WCL recognition in both his junior and senior seasons, as he and his Huskie teammates captured Wayne County League, Sectional and District titles both years. He averaged 19.5 and 18.5 points per game while shooting 57 percent and 60 percent from the field. Other awards were Third Team and Second Team All-Ohio berths with AP and Honorable Mention and First Team UP positions. He was winner of the first Nig Murray award which was presented by the Daily Record to the best basketball player in the county.
Mike pitched and played first base on Huskie nines that won 58 of 64 games over a three year period. The 1966 team won the Ohio State Class A championship and the WCL title with a perfect 25-0 season. The 1968 team was WCL champs with a 19-2 mark. Grenert led the Silver and Blue in hitting in both his sophomore and junior seasons and in pitching as a senior. He fired a one-hitter in his final league game and threw no-hitter in sectional play. He also pitched his summer Hot Stove 'D' League team to a state title in 1967, throwing a no-hitter in the final.
Mike attended The College of Wooster where he dropped the pigskin sport but continued play on the hardwood and diamond. After two years of baseball, he hung up his spikes; however he lettered for four years for the Scots in basketball. He continued his 50 percent plus shooting average from the field and led the team in scoring as a senior. That same season he set a Scot record by shooting 91.7 percent of his Free Throws, one of the top marks in the nation.
Mike was to only an outstanding athlete but an excellent student both in high school and at the College of Wooster. He now lives in Connecticut where he enjoys running, golf and tennis or recreation. He has run in the Boston Marathon. He joins his father Frank in the Wayne County Sports Hall of Fame.