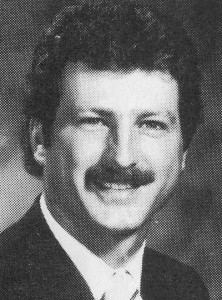 Triway High School produced its greatest football team in 1975. There are also many who regard the 1975-76 basketball team as the best to don the purple and white. The 1975 and 1976 baseball teams both rank among the Titans finest. The most outstanding player on all of these teams and probably the most outstanding athlete in Triway history is Keith Snoddy. Keith's endeavors did not end at Triway. He went on to  Youngstown State University where he quarterbacked the Penguins to three straight league championships, a 28-7 record, and three consecutive trips to the NCAA Division II Playoffs where they reached the semi-finals twice and the finals once.
Athletically, Keith has always been a winner. His earliest efforts found him pitching and batting his 'F' League Hot Stove Baseball team to the state and national championships while they registered a two year record of 40-2. He led his 7th & 8th grade Triway basketball teams to back-to-back 16-0 seasons, pacing both squads in scoring and rebounding.
Snoddy was a starter on the Triway varsity baseball team as a freshman and by his sophomore year he had become a starter in all three major sports. The Titan basketball team compiled a record of 35-6 in his junior and senior seasons and won both conference and sectional titles. Keith won the Coaches Award for team leadership in both of those seasons and was All-Conference as a senior. The baseball team did even better with Keith pitching o playing the outfield as they won conference, sectional, district and regional titles. He again picked up All-Conference honors.
Football, however, was his best sport. He was the Titan's starting quarterback for three seasons and was All-Conference as a sophomore, missing it in his junior year due to a broken collarbone. He then led Triway to a Chippewa Conference title as a senior, gathering All-Conference, All-District, and All-State 'AA' recognition while doing so.,
His accomplishments on the gridiron caused him to be recruited by numerous colleges and universities.
Keith opted for YSU and as a freshman played behind Cliff Stoudt who later started for the Pittsburgh Steelers and the Birmingham Stallions It was the only year he did not start. His three remaining seasons found him leading the Penguins to the best record in their history. It led to three NCAA Division Playoffs, culminated by a trip to the Finals in 1979. Snoddy proceeded to break almost every YSU passing record along the way. These were records established by the aforementioned Stoudt and Ron Jaworski, who went on to play for the Philadelphia Eagles. Keith was All-Conference all three season and an Honorable Mention Division II All-America as a senior.